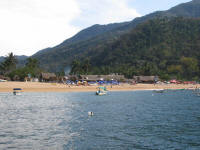 The beach at Yelapa. A very cool, fun spot only reachable by boat. If you come to PV, getting out here, even just for the day is highly recommended.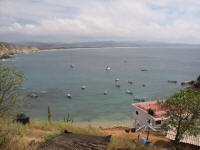 Sula and Trinity anchored in Ipala Bay looking south. Most of the boats are pangas belonging to the local fishermen.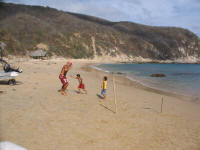 Playing tag with the local kids in Ipala.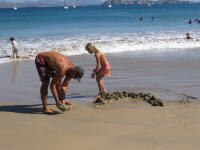 Building sand castles on the beach in Chemala.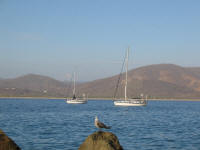 Trinitiy and Sula anchored off of Isla Colorado in Bahia Chemela.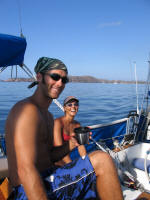 Hitching a ride with Nick and Nicole from S/V Stargazer on our way to La Manzaillo. The Bahia Tenacatita anchorage is in the background.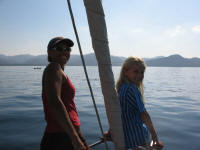 Nicole and Kelsey looking south towards La Manzanillo.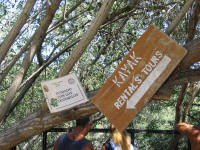 We though these signs were hilarious. "Beware of the Crocodiles" right next to "Kayak Rentals".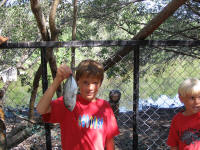 RJ feeding the crocadiles. They were "American Crocadiles" and grow to over 15 feet long!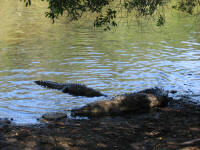 Look at those snappers! Be sure to check out the video for a much better view of these guys!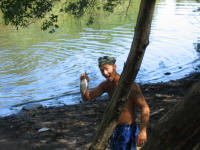 Nick from S/V Stargazer demonstrating the foolishness and impression of imortality pocessed by the those below age 30.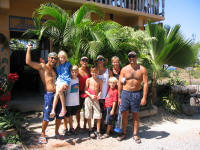 Stargazers, Sulas and Trinities on Mexican time in La Manzanillo.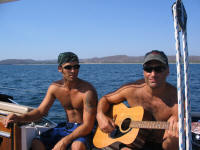 Eric gets a guitar lesson on the way back to the Tenacatita anchorage. "Oh, Jiimy never sang about doing the brightwork..."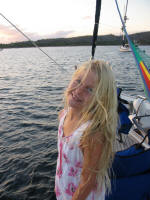 Kelsey being photogenic as always.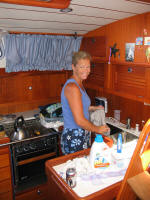 Mel doing laundry in the galley sink.
Towing the kids to the Mayor's raft up on the Aquaport. You can see Sula in the background with spiniker pole rigged for a rope swing.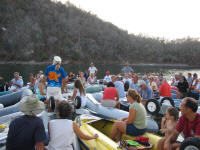 Friday Mayor's dingy raft up.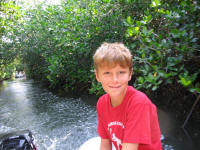 Rj piloting us through the mangroves on the "Jungle Tour" in Bahia Tenacatita.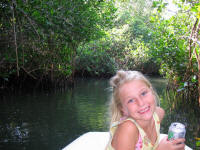 The passages through the mangroves often narrow to 10 feet wide or less and are kept open only by the efforts of local panga fishermen.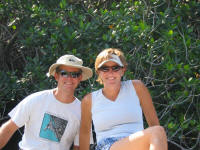 Mike and 'Bad Aunt Janus' from S/V Ayu on the Jungle Tour.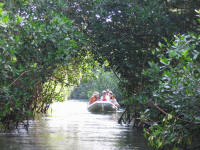 Pretty cool huh? This is the main passage!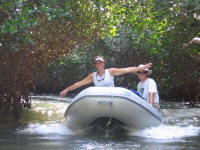 Going just a little just a little fast through the mangroves!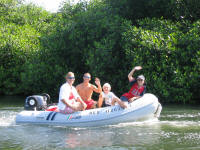 Trinity's tender is named "Neo". Guess where they got the name of their boat from?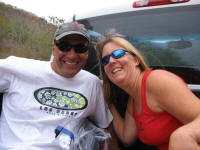 Eric and Roma hitching a ride in the back of a pickup from La Manzinillo to Malaque"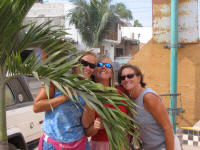 The girls playing coy while getting their shopping fix.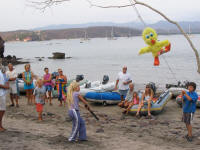 Howl at the Moon and 6 year old birthdaybeach party for Olivia on S/V Sunflower. Kelsey is up to bat. Note anchorage in background.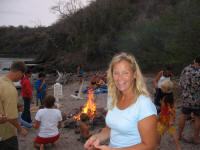 Babe on the beach.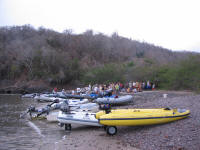 Quite a turnout. This little spot is known as "Good Dog Beach" in Bahia Tenacatita.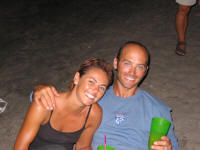 Nic and Nick from S/V Stargazer on the beach. We are really going to miss these guys as they are heading back North soon.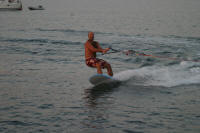 Eric Dinghy Surfing.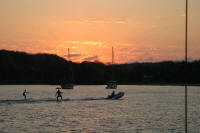 Dinghy Surfing at sunset. Does it get any better than this?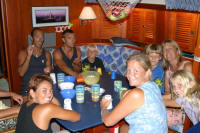 Liar's Dice party on Sula. Not quite as out of control as the Jello Shot Ping Pong night on Stargazer, but a fun time none the less.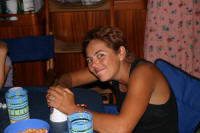 Nicole with a good role no doubt.