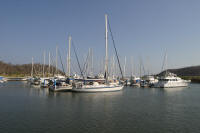 Sula end-tied in the marina in Hautulco, Mexico.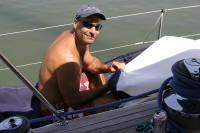 Eric repairing the leach line on our main sail, which parted on the passage down to Hautulco.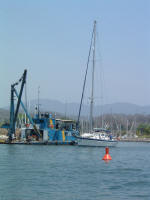 Easing past the dredge as we depart Hautulco, bound for El Salvador. Photo courtesy of s/v Avanti.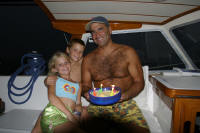 Celebrating Eric's birthday in the middle of the Gulf of the Tehuantepec, southbound for El Salvador.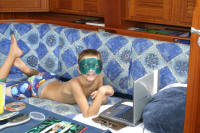 RJ cools down using Melissa's frozen face mask!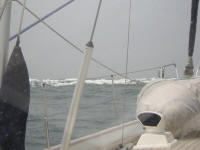 Approaching the entrance bar at Bahia del Sol, El Salvador.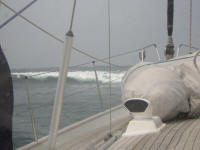 Is there really a passage here?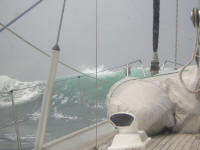 Damn! That's a big standing wall of water. Hard to beleive there is 15+ feet of depth there!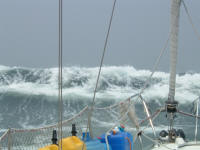 Here's another shot of a huge wave across the bar courtesy of s/v Avanti, just before they cross the bar.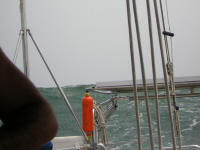 On the bar looking aft. Oh S**t! This one is going to break right on us!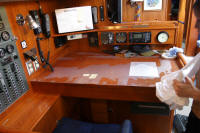 Bar crossing aftermath. Water below on the navigation station.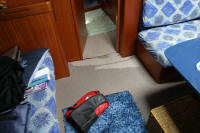 Water below after crossing the bar.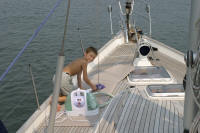 RJ steam cleaning carpets on deck to remove the salt water from our bar crossing.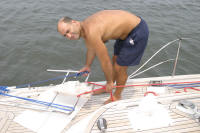 Eric and his "torture rack" as he works to straighten out our bent up stern pulpit after crossing the bar at Bahia del Sol.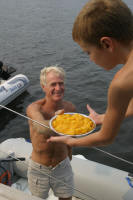 Bruce from s/v 5th Element brings us a mango pie to cheer us up as we work to clean up and repair the boat after crossing the bar.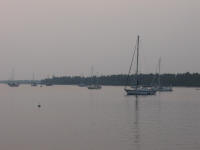 Sula, saftly anchorred in calm water in Bahia del Sol. Whew!