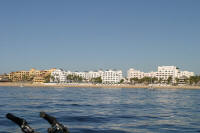 The "White Hotel" in Cabo San Lucas as seen from our achorage. While in Cabo, we would dingy or swim ashore to the beach and use their pool.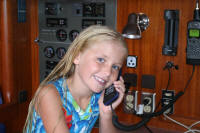 While cruising, the VHF radio is your phone. The kids have become highly skilled and professional in using the radio to contact other "kid" boats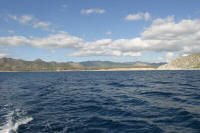 Bahia Los Frailes with Cabo Los Frailes to the right.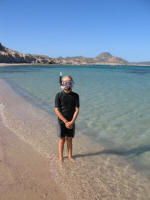 Kelsey all geared up for snorkling on the north side of Cabo Los Frailes near Pulmo reef.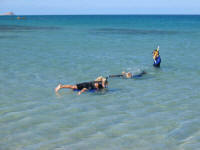 Its a kid's snorkling party!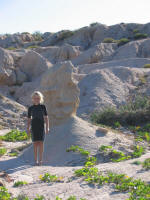 Kelsey at the edge of the desert, on the beach at Los Frailes. The combination of ocean and desert ladscapes here are breathtaking.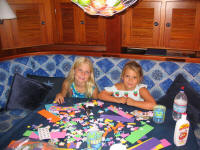 Kelsey with friend "Yvette" from S/V Aquamarine in Bahia Los Frailes, doing crafts and making bookmarks for Yvette's Dad's B-day.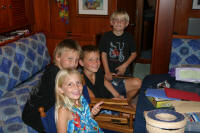 Kelsey's 8th Birthday party in Bahia Los Frailes, Pulmo Reef Anchorage.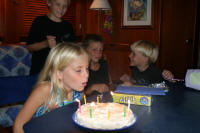 Make a wish!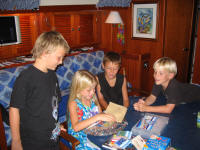 Beading supplies were the main theme for this newly turned 8-year old.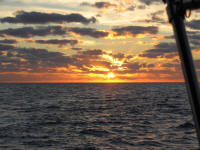 Sunrise on passage from Los Frailes to Bahia de Los Muertos.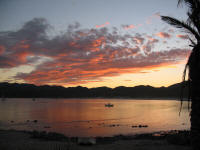 Sunset from the beach looking out over the anchorage at Bahia de Los Muertos.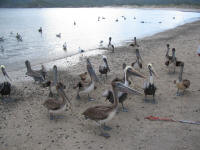 Pelicans on the beach in Los Muertos, waiting for handouts from the Panga fishermen cleaning a recently caught marlin to the right.
Relaxing on the beach in Los Muertos. The Giggling Marlin resturant can be seen in the distance to the right.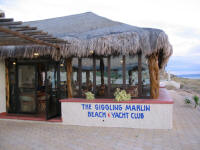 Cold beer, pancakes, margaritas with ice and fresh fish tacos with a view!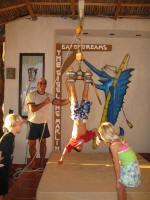 RJ's experinces first hand what it feels like to be a landed Marlin or a tourist in Cabo (without the requisite tequilla shot of course).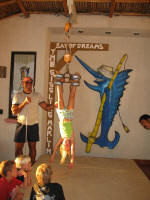 Kelsey giving it a try.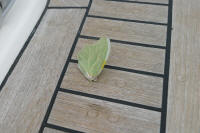 It's not a leaf, its a butterfly of some sort that stopped by to say hello on passage to La Paz from Bahia de Los Muertos.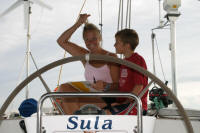 Melissa helping RJ with math on the way to La Paz.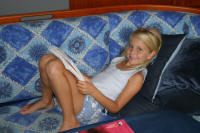 Kelsey working on her schoolwork below.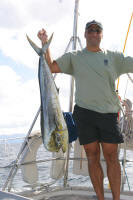 We caught this 20lb Mahi Mahi while sailing to weather through the Lorenzo channel on the way to La Paz. No wonder we were going so slow!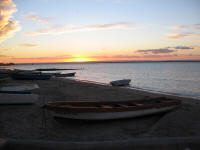 Pangas on the beach in La Paz.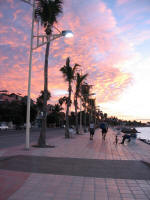 The main drag in La Paz at sunset.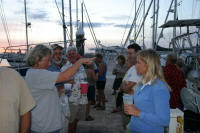 Dock party at Marina Palmera, where we kept the boat for our first few days in La Paz. We later moved to Marina de La Paz to be nearer town.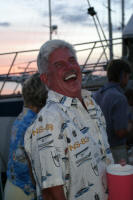 Mike from S/V At Last, another Ha-Ha boat.
Roma from S/V Trinity sampling the fine munchies at the Marina Palmera potluck.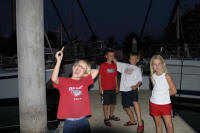 Kids get to party too!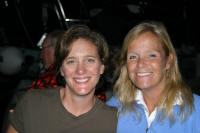 Mel with "Bad Aunt Janus" from S/V Ayu, a Hallbery Rassy 46 and fellow Ha-Ha cruiser. There is something about an HR owner. We became fast friends.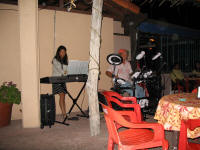 Doug and Kumi from S/V Kanaloa, jamming for the cruisers at the Dock Cafe at Marina de La Paz on Doug's birthday!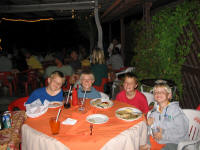 We include the kids in everything and they seem to have fun where ever we go and whatever we do.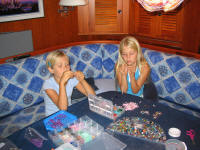 Kelsey with friend Dana (age 7) from S/V Desiderata. RJ also loved to hang out with Dana's older brother Fletcher (age 8).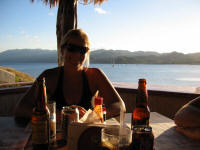 Mel sipping a cold on at the Giggling Marlin, Bahia de Los Muertos (Bay of Dead Men). BTW, they are trying to change the name to "Bay of Dreams".