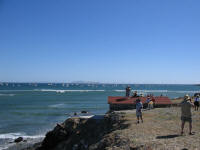 The Ha-Ha fleet anchorred in Bahia Santa Maria. View from the lobster fishing shacks on the bluff above the anchorage.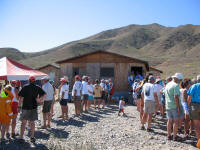 The biggest event of the year - the lobster fisherman cook 500+ lobster dinners in the middle of nowhere. Crusiers line up to get some.
Beer line on the left, lobster on the right.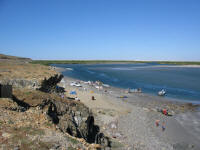 Looking North from the fishing shacks towards the mangroves in Bahia Santa Maria.
Kim and Roma enjoy a cervasa in the sunshine in Bahia Santa Maria.
Enjoying our lobster at the fine dining hot spot of Bahia Santa Maria.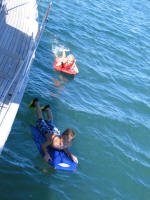 "Hey dad, the ocean is warm enough to swim in!" The water in Bahia Satna Maria was perhaps 76 degrees.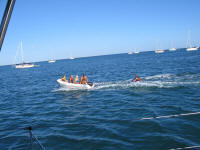 Eric towing kids on boggy boads behind the dingy in Bahia Santa Maria.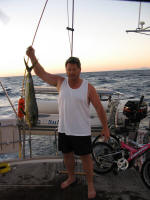 Mr. B. lands a Mahi Mahi enroute to Cabo San Lucas from Bahia Santa Maria.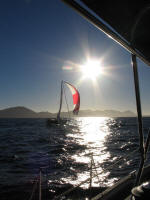 A gorgous shot of a member of the Ha-Ha fleet.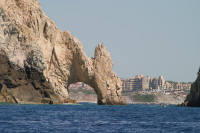 The famous Cabo San Lucus Arch as we round the point to head into Bahia San Lucas.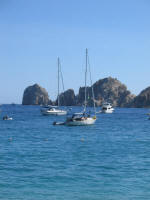 Sula at anchor in Bahia San Lucas.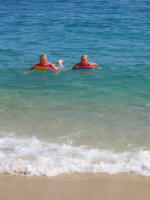 "Hey Dad, this water is really warm!" The kids boggy boarding on the beach in Cabo.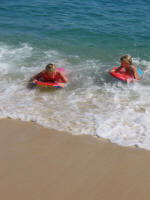 Kimmy gives it a try.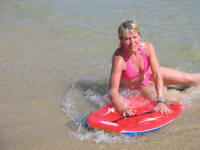 Kimmy tries her hand at a Sports Illustrated swim suit photo shot.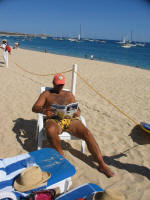 Eric kicking kicking back in Cabo reading "Offshore Navigator" magazine.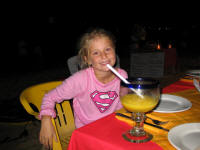 Kelsey and her Mango Juice at the Mango Bar on the beach in Cabo.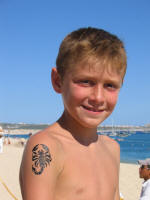 RJ gets a scorpion tattoo. Don't worry Nana, it's temporary.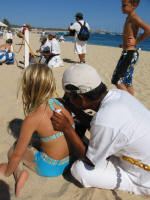 Kelsey getting her tattoo.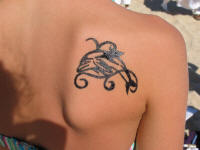 Kelsey's finished tattoo.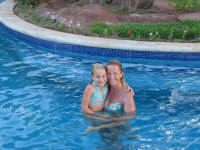 The unwritten rule is that crusiers are welcome at the hotel pools as long as they buy an occasional drink.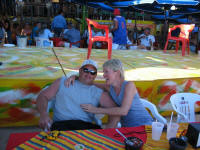 Mr B. and Kimmy all clean up at the Ha-Ha party at the Mango bar on the beach in Cabo.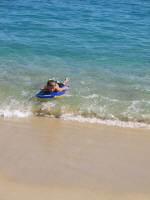 Rj doing some more boggy boarding.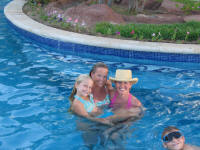 More pool action.
The Ha-Ha awards cerimony in the Marina parking lot in Cabo.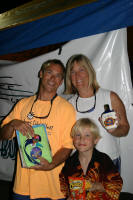 Trinity wins first place overall for sailing the entire 3 legs without ever running their engine.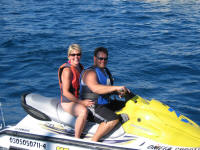 Mr. B and Kimmy try out some hotel water toys.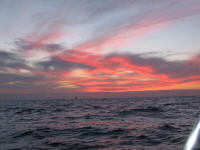 One last sunset, from our last leg on the way to Cabo.