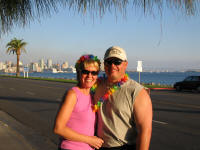 Our good friends Brian and Kim join us in San Diego for the Baha Haha.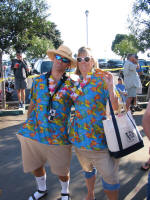 Steve and Roma from S/V Trinity as Tacky Tourists at the pre-departure Baha HaHa Holloweeen party in San Diego.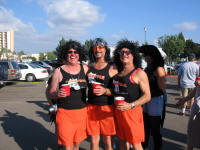 The world's ugliest Hooters girls. Mike from S/V At Last (far left) with two of his girlfriends.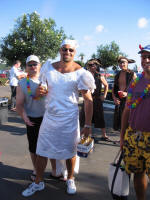 Oh, that is just plain wrong.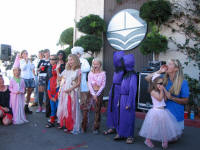 Some of the kids from the boats in the rally. Kelsey the Rock Star is in the middle.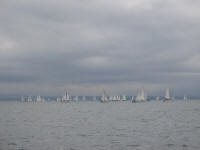 The start of the Ha-Ha, just outside San Diego Bay, October 25th 2004.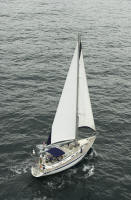 Hey, thats us! They had a helicopter take photos of all the boats at the start for later purchase. All the proceeds went to the orphange in La Paz.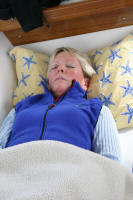 Kimmy napping in the cockpit. It takes a while to slow down to crusing speed when you live life in the fast lane.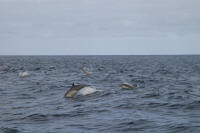 Doplhins everywhere! We saw many hundreds all the way down the Baha Coast.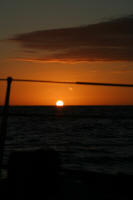 Sunset our first night on the HaHa. Wonderful.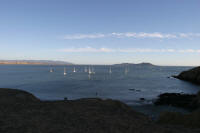 The Ha-Ha fleet anchorred in the Bay of Turtles, our first stop 330 miles Southeast of San Diego.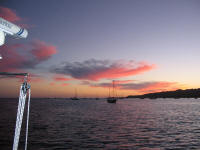 Bahia Tortugas sunset.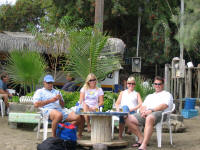 Cervsa time. Ashore in Turtle Bay. The arrival of the Ha-Ha fleet is a huge event for this small community.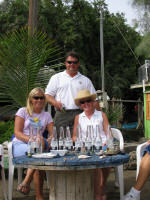 Uno Mas?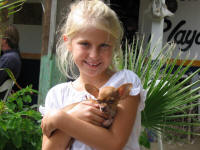 Kelsey holding "Zoe", ship's mascot from S/V Sand Castle.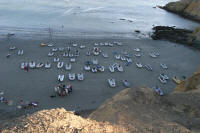 Dingy landing at the Beach Party in Turtle Bay.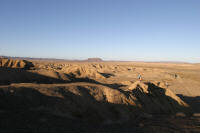 Looking inland from the hills above the head of Turtle Bay.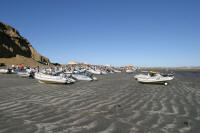 Turtle Bay Beach Party.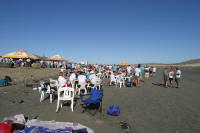 Another Beach Party Shot.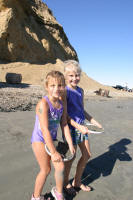 Kelsey with friend Evet from S/V Aquamarine on the beach at Turtle Bay.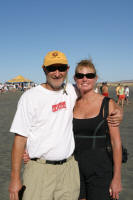 Mark and Diane from Seattle off of the HR 36 Con Te Petro. Great people. They loaned us refrigeration gauges so we could re-charge our system.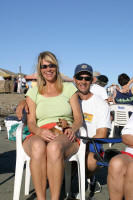 Kathleen and Kelly from S/V Sand Castle with wonder dog Zoe!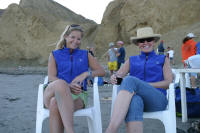 Mel and Kimmy kicking back on the beach.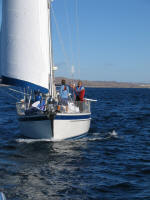 S/V Trinity leaving Bahia Tortugas, about to set their spinniker.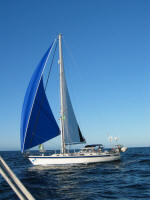 Hey, that's us flying our new genniker!! Man, we love this sail. It's big and it's fast and if the wind picks up too much, you just furl it!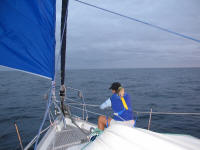 Melissa furling the genniker before dousing.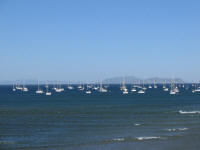 The Ha-Ha fleet anchorred in Bahia Santa Maria