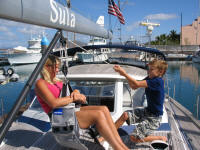 RJ studying physics using simple machines - both a fixed and movable pulley. "Let's see, at 4:1 ratio, I need to apply 50lbs to lift mom, right dad?"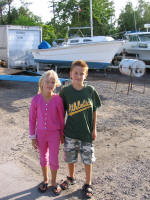 RJ has a girl in every port. In La Paz, it was Dana from S/V Desiderada. "She's cute dad!"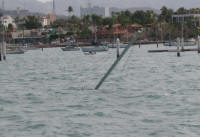 Look close. That is a mast sticking out of the water in front of Marina de La Paz. One of the casulities from huricane Marty in 2003.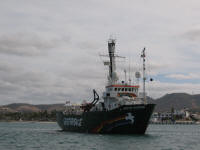 The Green Peace vessel 'Artic Sunrise' anchorred in La Paz.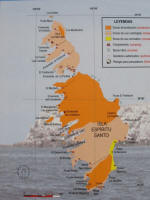 Map of Ilsa Espiritu Santo and Isla Partida.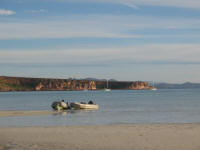 Tenders from Sula and Trinity, ashore at Bahia San Gabriel, Isla Espiritu Santo.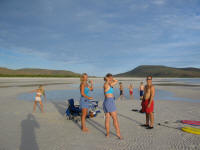 Ashore at Bahia San Gabrial, Isla Espiritu Santo.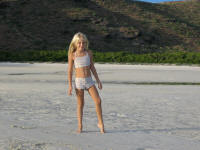 Kelsey about to do a cartwheel.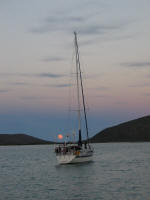 Moonrise over Trinity.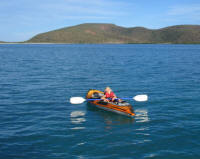 Kelsey solos in the Kayak.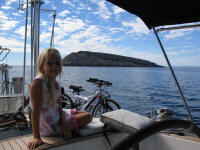 Kelsey with Isla Ballena in the background on teh way to Ensenada de La Partida.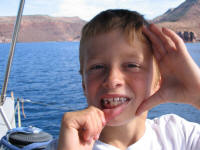 RJ looses a tooth. Yes, the tooth fairy can even find us out here in the islands.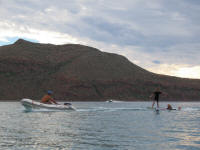 RJ and Kelsey getting towed behind the dingy on their boggy boards.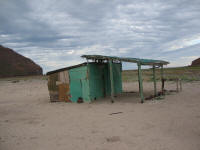 Seasonal fishing shack, Ensenada de La Partida.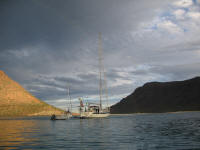 Trinity and Sula at anchor, Ensenada de La Partida.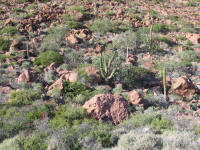 Cactus-studded hills surrounding the anchorages in these islands.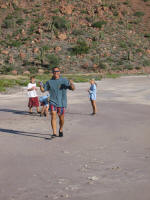 The beer man cometh! Steve from S/V Trinity deliverring much needed refreshments.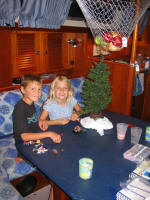 Deck the Halls! Trimming the tree in the islands!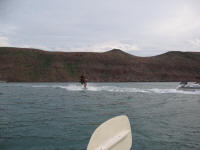 RJ wake boarding in Ensenada El Cardonel. We "borrowed" a wake board, two surf boards and a ski rope from S/V Stargazer.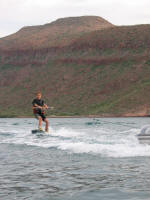 Jumping the wake!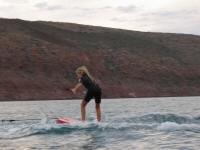 Kelsey, standing on the boggy board!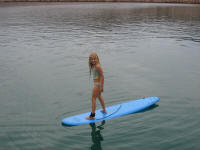 Hang ten, Surfer Girl!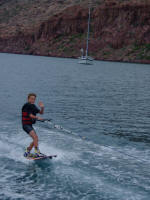 RJ on the wake board.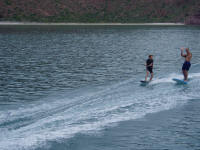 RJ with his new beswt buddy Nick from S/V Stargazer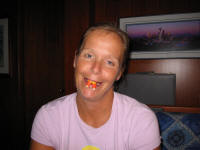 It's hard to maintain good personal hygene habits when crusing.... "See kids, this is what happens when you don't brush."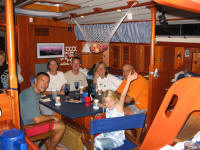 Hallberg-Rassy owners unite! The crews of Sula, Trinity and the HR46 Ayu, with Mike and "Bad Aunt Janice" on board.