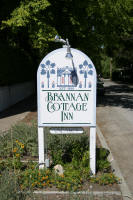 Steve's parents own a bed and breakfast in Calistoga where we stayed.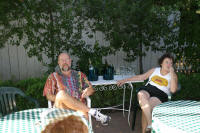 Steve's parents, Judy and Doug, at the evening wine tasting at their B&B. What great hosts! We thouoghly enjoyed our stay.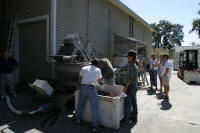 Crush in Sonoma valley. Ah, what else is better in life? Here they are processing the freshly picked grapes.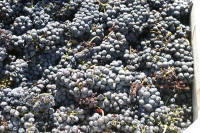 Yummy! These merlot grapes taste amazingly sweet. They have a much higher sugar percentage than store-bought table grapes.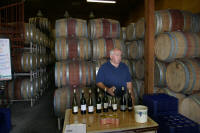 Inside the Vincent Aroya winnery. Each of those barrels are French Oak, costing around $850 a piece. That's about $4 per bottle!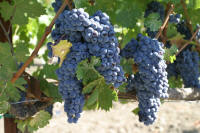 Wow! Cabernet Sauvingon grapes ready to be harvested.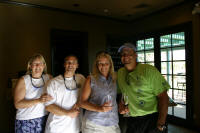 Roma, Steve, Mel and Eric with wine in hand.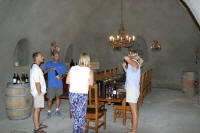 Inside the cave at the Reverie winery. This was a fantastic stop with a walking tasting and complete tour.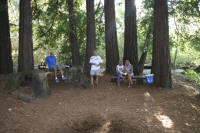 Outside tasting amoung the Catherdral trees at the Reverie winery. What a glorious spot.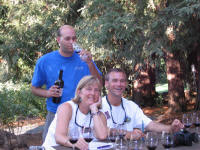 Roma and Steve with our host and taste master. This guy was a hoot and super entertaining!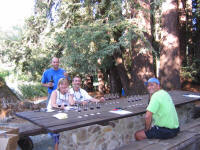 Vertical tasting at Reverie. Special treatment for easy marks. Lesson learned: visit the most expensive winery first, not last!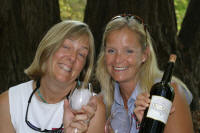 Is this our fourth or fifth winery today? Ah, who cares!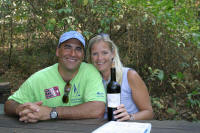 "Honey, I want this bottle..."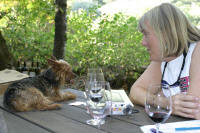 Roma makes a friend at Reverie.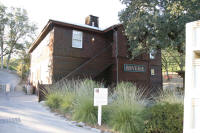 Reverie Winery.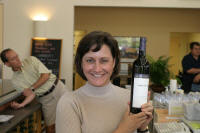 This is Lori at Clos Du Bois winery. Great gal, very knowledgable and helpful. Thanks Lori! We joined the wine club there!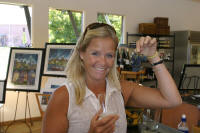 Mel with Cabernet Sauvingon grapes at the "Close to Boise" winery. We really liked the wines here, particularly the ones you can't get in stores!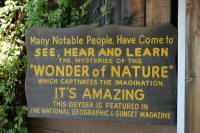 We visited California's Old Faithful while we were in Calistoga. It's kind of like a trip back in time to the 60's, but it was still pretty cool!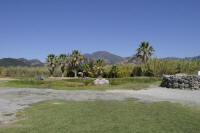 The Geyer errupts every 45 minutes or so.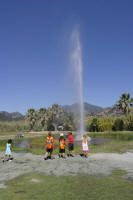 There she blows!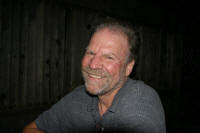 Eric's cousin, Brian at his 58th birthday dinner in Willets. Brian and Eric had never met, so it was great to get together!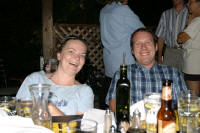 Brian's kids, Rose and Seth. Great people with true adventurous spirits. Come join us on our trip somewhere guys!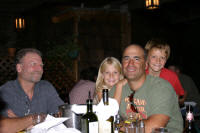 Brian, Kel, Eric and RJ.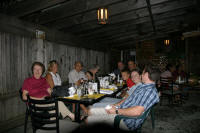 Family reunion and birthday party at the Purple Thistle resturant.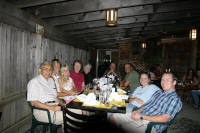 Left to Right: Eric's unlce Willard, Mel, Kelsey, Eric's Aunt Sunny, Eric's Aunt Nancy, Eric's cousin Brian, Eric, Rose and Seth.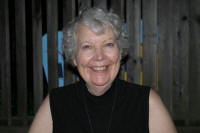 Eric's Aunt Nancy. We very much enjoyed seeing her and her son Brian and his kids Seth and Rose. Thanks for everything Auntie!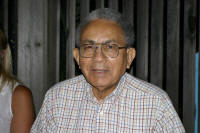 Eric's uncle Willard. This man knows wine!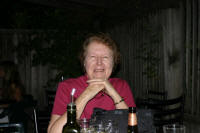 Eric's Aunt Sunny. Thank's Auntie for the great hospitality! Your the best!