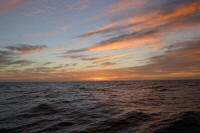 A beutiful sunset with calm conditions on the way to Eureka CA from Newport OR.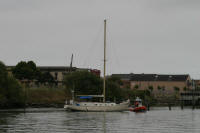 As we neared the marina in Eureka, motoring down the river, we heard a call on the VHF radio from a sailboat aground. We tried to give them a tow, but the ebb tide current was too strong and we nearly went agound ourselves!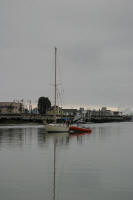 The Coast Guard helped the guy single handing the boat set his anchor and then helped winch him into the middle of the river and gave him tow to a slip in the marina.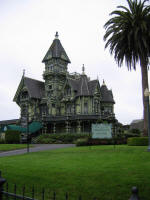 Eureka has many wonderful victorian homes and victorian architecture is everywhere in the old town area.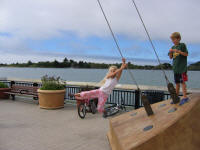 Kelsey and RJ had a lot of fun swinging on the rigging of a signal flag mast on the waterfront in the old town area of Eureka.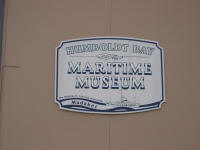 Eureka has a rich maritime history and the Maritime Museum in Eureka, while small, is an interesting stop the kids really enjoyed.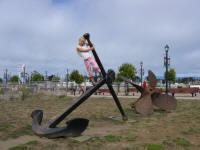 Anchors away! Kelsey climbing an old fisherman style anchor once used to anchor large mooring bouys for commercial ships outside the Eureka Maritime Museum.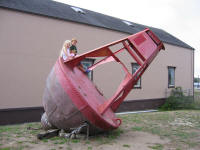 Kelsey and RJ on an old bouy. Note the riveted construction. They don't make em like this anymore!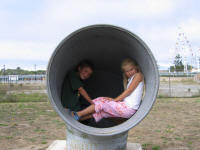 Dorade vent, probably recoverred from one of the many ship wrecks in the area.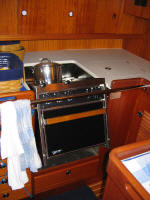 Cooking in heavy weather on passage to San Francisco. The stove is level. The boat is not.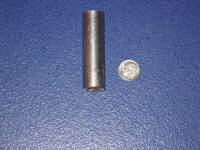 In the heavy weather, as the boat rolled and pitched, Melissa swore she heard something banging, bumping and rolling around inside the deck above the aft cabin. Eric and Dave thought she was hearing things until she pulled out a screwdriver, removed an access panel for the electric winches and produced this size 13mm deep socket left there by acident by some previous boat worker!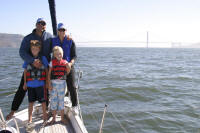 Ah, the heavy weather behind us, we steam towards the Golden Gate bridge in calm seas and sunshine!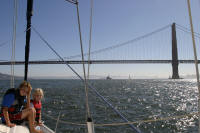 Wow, that's one really big bridge!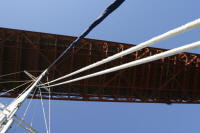 Even Melissa doesn't worry about this one. There is no way we could possibly touch!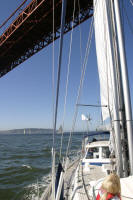 Officially inside San Francisco Bay. We made it!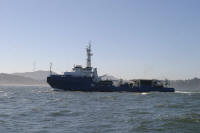 There's lot of traffic in and out of San Francsico Bay. Even though we made our approach in the pre-danw hours, when traffic was minimal, we were watching the radar all the way!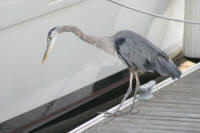 Great Blue Heron hunting off the dock at Schoonmaker Marina in Suasalito.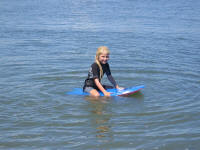 Surfer girl. There's a great beach right in the marina. Kelsey and RJ made fast friends with the other boat kids in the neighborhood and spent most of the unusally warm weekend in the water!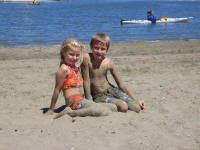 Smile kids!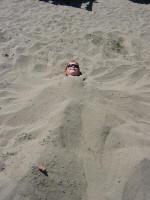 Bury me daddy!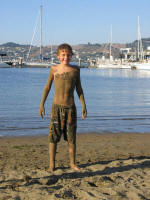 Well, that didn't last long. That sand is hot!