Greetings folks. Here's the fifth trip report from our sailing adventure.
We aren't really sure when our next update will be. It all depends upon when we can find a working land line. Probably in 10 days of so.
Hope you are having as much fun as we are!
Cheers,
Eric, Melissa, RJ and Kelsey
Aboard 'Sula'
Ketchikan, Alaska
Monday, August 7, Frosty Bay, Seward Passage, Alaska<![if !vml]>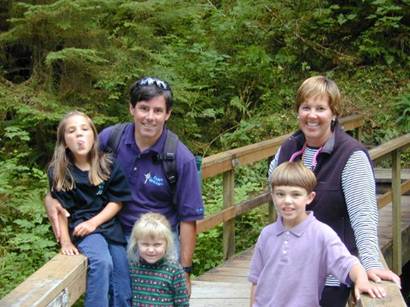 <![endif]> (59NM). After running a few errands this morning we met up with the Shurtleff family (Rob, Cindy, Kyle 9 and Katie 6) on their way to meet us at the boat in a taxi. When they had begun to explain to the driver where they were heading she immediately said, "I know, I met your friends yesterday" (she had driven Eric and Joan to the airport) Wow! Wrangell is a very small town. RJ and Kelsey are very excited to have other kids coming aboard. We just hope that they don't suffocate them! Having taken care of most of our re-provisioning the day before, we were all aboard and ready and eager to get underway by 11:45 and so headed out and around the East side of Wrangell Island. The waters in the passage appeared very muddy and silt laden from the glacier and river runoff from the Stikine River. <![if !vml]>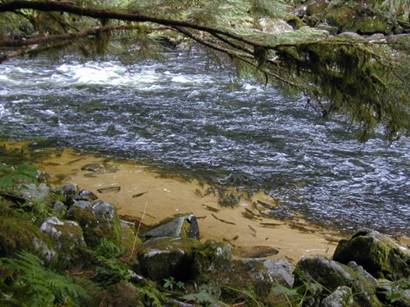 <![endif]> This area averages ½ inch of rain a day and many of the long inlets are in a state of perpetual ebb tide from the tremendous amount of fresh water runoff. We anchored for the afternoon in Anan Bay and went to visit the Anan Wildlife Observatory where we were met on shore by a Forest Service interpreter. He gave us the scoop on what to do if we encounter a bear on the trail and then radioed his partner at the observatory and said we were on our way. Anan is a famous bear viewing area, due to the concentration of salmon (mostly Pinks) that spawn here each y<![if !vml]>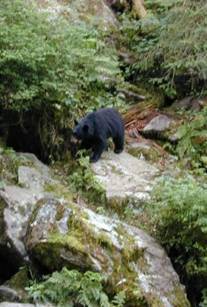 <![endif]>ear. There have been viewing platforms here since the 1930s and before that, it was a Tlinglit fishing camp for many thousands of years. There are 40-60 black and 15-20 brown bear in the area. Anon Creek was packed with salmon. We could see them swimming against the black bottom, but then we realized that th<![if !vml]>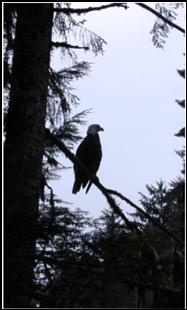 <![endif]>e bottom of the creek was not black but instead was actually a light tan color, and the salmon were so densely packed it just appeared black! There were tens of thousands of fish covering the entire river bottom! Spectacular! It was a beautiful ½ mile hike up to the observation area and just prior to reaching it Kyle spotted the first black bear - on the other side of the creek, which was good! We watched him fish for a bit then he left. At the top we watched the salmon as they tried endlessly to climb the falls. There was another Forest Service interpreter at the Observatory who answered questions and reminded us nicely to keep the kids quiet so not to scare the bears away. We spotted another black bear (across the creek again) and he put on a show of catching and eating at least 4 or 5 salmon in succession and then when he was done, he picked up one more large one to go! The Forest Service guys said that they actually only like to eat the brains and the roe because it has the highest protein content. Yum. There was a great camouflaged observing platform you could get down into and so we were probably less then 20ft away. Very cool. After we hiked back down to the shore, we decided to move on due to the forecast of increasing Southeasterlies and the reputation of Anan Bay not having great holding. We ended up in Frosty Bay, just 8 miles south, where Melissa finally caught 3 legal crabs and a whole lot more small ones! It's crab dinner tomorrow!
Tuesday, August 8, Naha Bay, Revillagigedo Island, Alaska We awoke to mist and drizzle this morning and after warming up with coffee and oatmeal, we headed through Seward Passage to Earnest Sound. The weather broke long enough for us to stop at Meyers Chuck, a small fishing and tourist villa<![if !vml]>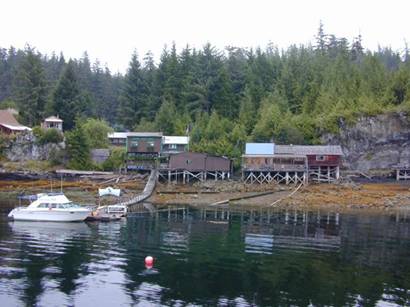 <![endif]>ge, and let the kids run around. It was apparent that this village had seen better times. A fishing lodge (for sale and currently closed) a school (shutdown – the calendar on wall said 1996) a post office (functional state unknown) and a local artist gallery <![if !vml]>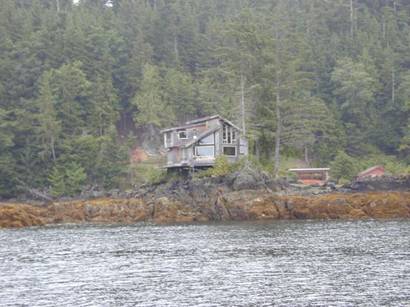 <![endif]>(open, after locating someone to open it for us, containing perhaps 20 pieces) along with 20-some houses in various state of repair made up the village. It was a good place to explore, but sad in way – perhaps indicative of the state of the fishing industry in the region. We continued on towards Behm Canal. We had hoped to go further today, but due to time and weather we chose Naha Bay (previously visited with BO and Cindy) as our stop for the night. All but Eric went ashore for the hike to the lake and rapids. We did see another black bear about ½ mile away across the lake (ho hum, another bear…) and then had an awesome crab dinner. Melissa an<![if !vml]>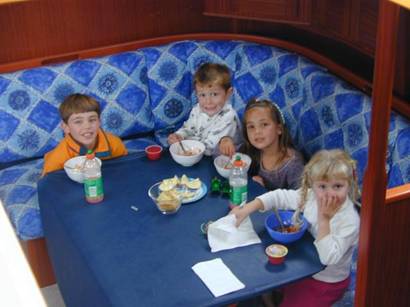 <![endif]>d Rob even caught another legal crab in the morning! Mel is finally getting her crab fix. The kids are doing great, RJ likes having someone to wrestle with. They have been playing card games, legos, and doing some puzzles.
Wednesday, August 9, Fitzgibbon Cove, Misty Fiords National Monument, Alaska (46NM) We departed casually this morning at 10:30 for our continued circumnavigation of Revillagigedo Island and to experience Misty Fiords National Monument. We stopped in Yes Bay at the local fishing resort to stretch our legs and make a few phone calls. The kids ran around an<![if !vml]>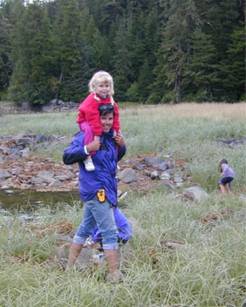 <![endif]>d played on the swing set and the adults poked around in the small gift shop and looked at all the photos of the ones that didn't get away. Later, we sailed through the narrows at the North end of Revillagigedo Island and headed for our anchorage in Fitzgibbon Cove – Crab Cove we dubbed it as we caught 21 crabs, 4 of them legal! Steak and Crab for dinner tonight! The kids and the 'Manly Men' went exploring and landed on a small rock island, claiming it for the tribe 'Sula'. There they decorated a small dead pine tree with pieces of crabs that th<![if !vml]>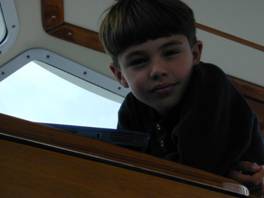 <![endif]>e birds had left, to honor those crabs that had fallen… in our pot! Perhaps it has been too many weeks in the wilderness… This was a very beautiful secluded anchorage, where the loons were calling as the sun was setting. Misty Fjords is amazingly quiet and private. We did not see another boat the entire day.
Thursday, August 10, Punchbowl Cove, Rudyerd Bay, Misty Fiords Nat. Monument Alaska (46NM) This is the heart of Misty Fiords National Monument. There are high granite peaks thousands of feet high flanking the channels with many waterfalls cascading down from the heights above. The seawater is almost fresh because there is so much fresh water runoff. We went deep into Walker Cove to explore and there we found a 1000 + ft waterfall that was running down the granite rock and then falling off a 30 ft overhang. We got the bow of the boat to within 10 feet. And could have put it under. Rob and Kyle went exploring in the dingy and went under the falls. Eric then went with RJ and actually took a shower! The water was well over 80 degrees as it had been running down the face of a thousand foot high sun-heated granite wall. RJ had more fun screaming, jumping and bailing the water out of the dingy. He could have played there for hours. We departed for more exploration and Cindy <![if !vml]>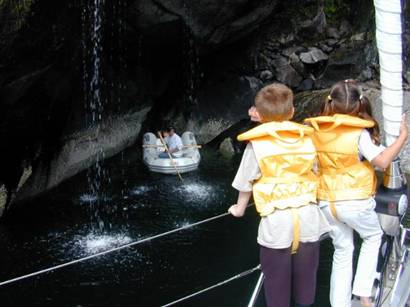 <![endif]>made us all some awesome chili for lunch. We stopped in Rudyherd Bay and Punchbowl Cove. The punch bowl is quintessential Misty Fjords. We tied up on the lone morning buoy and went ashore to explore. We went on a very muddy<![if !vml]>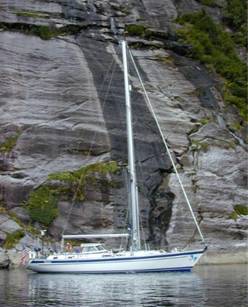 <![endif]> and steep trail that had some portions as a boardwalk. There were many vantage points to see the Bay and then a very large steep waterfall. After about an hour hike, in which we were convinced all the kids were goats (no pun intended), we reached Punchbowl Lake. There was a skiff and oars available so Mel and Eric took it for a quick spin while the kids had juice and crackers and rested for the trip back down. The trip back down was quite demanding. We had a few slips and falls with RJ doing a body plant in a mud puddle winning the mud man award for the day. This was a true rain forest with the trails flanked with skunk cabbage, moss, and nurse logs. It was very deep and dark. We did run into one black bear, who took one look at the muddy eight of us and turned and ran! Good thing! We made it down with no major injuries (which is rare for us this trip) and ten extra pounds of dirt. We spent time in the water trying to rid our selves of mud and then washed up again with the warm water shower o<![if !vml]>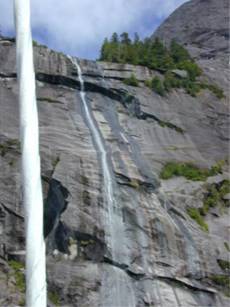 <![endif]>n the stern of the boat. The adults broke into the Ice Berg supply in the freezer left over from Tracey Arm and had a well-deserved ice berg cocktail. The kids will sleep well tonight. <![if !vml]>
<![endif]>
Friday, August 11, Ketchikan Alaska (NM ) We departed Punchbowl Cove early this morning at 6am, as we needed to get to Ketchikan with enough time to do laundry and provision before we leave fairly early on Saturday for our next leg. We departed Misty Fiords and headed down Revillagigedo Channel towards Ketchikan. Along the way we passed New Eddystone Rock, a shaft of rock that spikes 230 ft above the water, rising out of the middle of 1000ft deep Behm Canal. It is quite spectacular. This evening we will be meeting up with David Cornfield who will be our next crew member. He is an experienced sailor who will be of great assistance while we make over 450 miles in 6 days, heading to Greenway Sound in Canada. David will depart there and our friend<![if !vml]>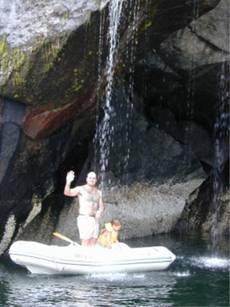 <![endif]>s Brian and Kim Golik will join us for a leg from Greenway Sound down to Desolation Sound. During these two legs we will have very little phone coverage, so we don't know when the next update will be sent, but stay tuned! We had a great trip with the Shurtleffs! We hope our kids are kind to David as they will truly miss their new playmates. This was the leg of Bears and Crabs!
Injury Update: Mel's finger is quite functional now, she can even type! Joan is resting comfortably at home and recovering from two cracked ribs and a deflated lung!