Greetings folks. Here's the forth trip report from our sailing adventure. There are even more pictures in this one. As before, I've reduced the fidelity to save on message size.
Next update should be in about a week once we get to Ketchikan.
Hope you are having as much fun as we are!
Cheers,
Eric, Melissa, RJ and Kelsey
Aboard 'Sula'
Wrangel, Alaska
<![if !vml]>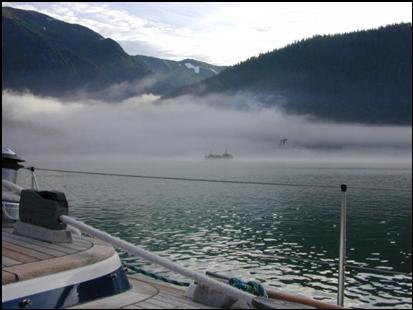 <![endif]>
Sunday & Monday, July 30 (42NM) & 31 (51NM), Tracey Arm Cove, Mainland Alaska We departed Juneau on Sunday around 2pm. We had a great dinner Saturday night with Marmit, Pops and Joan at Hangers restaurant on the wharf, which is decorated with photos and stories of Southeast Alaska Pilots going back to the 1920s. Mel was sad to say goodbye to her parents, but she knew they were looking forward to some warmer weather and sunshine! Sunday morning we were up early to finish our shore tasks: Eric ran Mel into town in the dingy in the morning fog to do Laundry and then back to the boat with some coffee for Nana (Joan). We had to anchor out in Juneau as the facilities for larger boats are very limited. Unless you fit under the 50ft bridge to Douglass Island (we are 73ft of the water not including antennas) you canít even get to the two marinas North of the bridge and space South is limited to cruise ships and a single, very popular small boat dock. Next time we will make reservations. Later, Eric brought everyone ashore, Joan ran the kids around, Mel brought the clothes back to th<![if !vml]>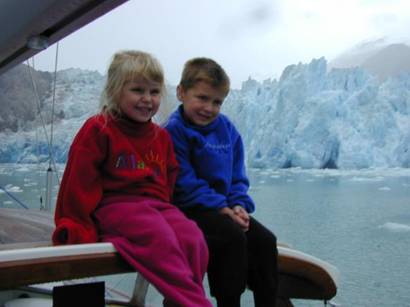 <![endif]>e boat, Eric found the hardware store, Mel came back to grocery shop, we went to lunch and finally back to the boat to leave. Youíd think that weekends in town would be a time to explore and see the sights, but our schedule really doesnít allow us a lot of layover time, so it ends up being mostly a hectic time focused on reprovisioning Ė <![if !vml]>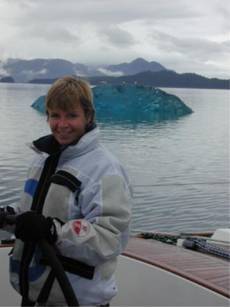 <![endif]>fueling the boat, filling the water tanks, finding propane, disposing of used motor oil from in-route engine oil changes and so on. By Sunday afternoon, the rain had started. In our last update, we mentioned gale force winds (30-40kt) were forecast for Sunday night and Monday and we were trying to get out early enough to get down into the steep, narrow fjords of Tracy Arm to avoid them. We did encounter gusting winds to 30kts in Stephens Passage for a short time, but then the winds subsided as we got father South in the passage. We entered Tracey Arm Cove amidst some very large ice bergs floating way out in Stephens Passage. We are talking huge, cruise ship sized things hundreds of feet long. The coast guard was even mentioning them in their regular marine broadcasts on channel 22 as a hazard to navigation. We spent a calm Sunday night in <![if !vml]>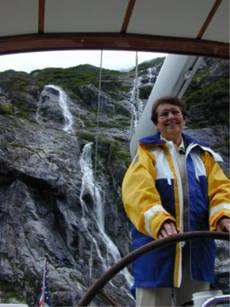 <![endif]>Tracy Arm Cove (also called ĎNo Name cove) at the mouth of Holkham Bay, where Tracy Arm and Endicott Arm meet. Monday morning, we left for the Glaciers as the tide turned to catch the favorable current. The route up Tracy Arm to the Sawyer Glaciers is through a narrow, winding fjord (narrow enough that the larger cruise ships donít enter) with plunging depths to over 1,200ft and granite cliffs and peaks to over 5,000ft with waterfalls cascading <![if !vml]>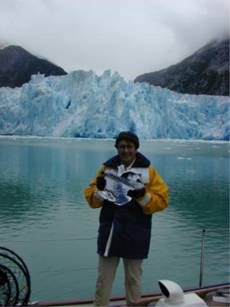 <![endif]>down from the heights above. You have to go 100 miles off shore on most of the East coast to find depths half that deep. Here we were 100 feet from a cliff and getting absolutely no reading on the fathometer! We encountered various sizes of icebergs along the way, from small bergy bits to floating apartment buildings, many having a deep, beautiful blue glow to them that we didnít really see in Glacier Bay. Must be older ice, more severely compressed. The South Sawyer Glacier was calving quite a bit (pun intended) while we were there. There were thousands of bergy bits floating just off the glacier and the wind had pushed them together into a large ice float with hundreds of seals on it. We floated around for about an hour and we had to be <![if !vml]>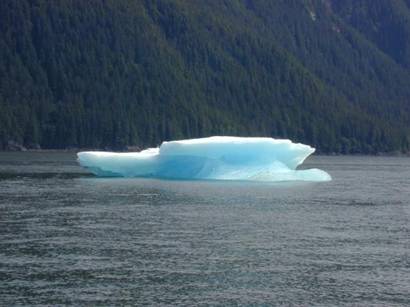 <![endif]>careful of our position and constantly maneuver as the wind would shift and we would suddenly find ourselves surrounded by Volkswagen-sized chunks of ice with no escape route! Last time Mel was here, she couldnít get close to the North Sawyer Glacier as the inlet was choked with ice, but this time, the route was clear and we stopped on our way back down. It was not very active but its color in areas was an amazing <![if !vml]>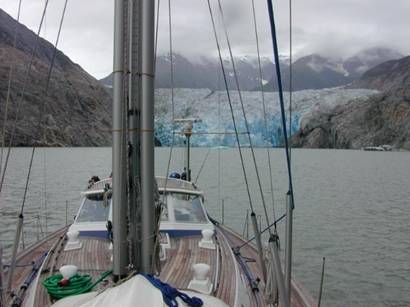 <![endif]>sapphire blue., deep and hypnotic. Incredible! Late in the day, we made our way back down the arm through the ice and anchored in Tracy Arm Cove again for Monday night (there are no good anchorages in Tracy Arm itself).
<![if !vml]>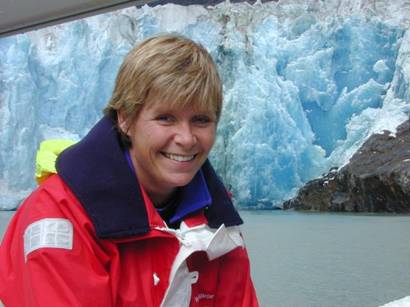 <![endif]>

Tuesday, August 1, Cannery Cove, Admiralty Is. Alaska (41NM) We departed Tracy Arm <![if !vml]>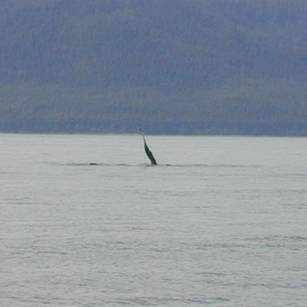 <![endif]>Cove for our intended anchorage tonight of Cannery Cove in Pybus Bay which is known for good crabbing. The weather had turned sunny and warmer in the wake of the low that had come through the day before and we were not in Stephens Passage for very long when the first sighting of whales occurred. We headed in their direction, in blue sky with a nice Northerly, sailing on a comfortable beam reach. It promised to be a banner day! They were humpbacks, lots of them, spread out over a large area and feeding on krill Ė slapping the water with their tales and flukes to stun and corner the small animals before swallowing them by the ton. We sailed around and among them whales for about 3 hours. Kelsey said we had seen 10<![if !vml]>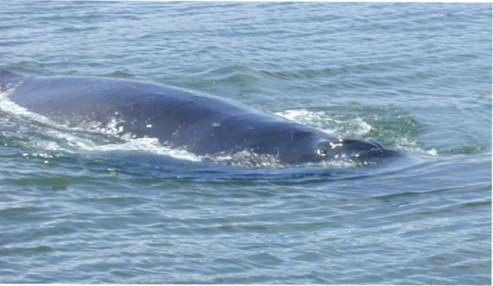 <![endif]>1 whales, but we think in reality it might have been more! We were surrounded; everywhere we looked there was one blowing or a tail or fluke (and an occasional breach) in the air. We got quite close to a couple of them (or rather, they got close to us) to the point that we think we startled them. Under sail, we donít make much noise and the whales donít avoid you like they do when the engine is running. RJ thought it was very cool! As we crossed Stephens Passage Eric caught another salmon, with whales still in every direction. We are getting pretty good at this fishing thing! Just prior to entering Frederick <![if !vml]>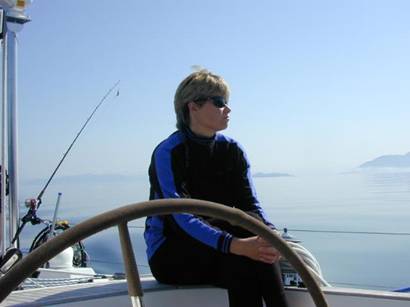 <![endif]>Sound another large humpback surfaced just off the bow and came within about 5ft of the port side. Needless to say, we were quite surprised and so, apparently, was the whale, who quickly submerged with a splash of his tale. We hadnít even seen him. Weíre sure he knew we were there, but it seemed like a close call Ė these animals are huge and this guy massed as much as the boat! We arrived in Cannery cove after sailing almost the entire day and there were several other boats in the anchorage, but it was still beautiful being at the end of a valley with snow covered peaks in the distance. The wind and sun was with us all day, it was a nice change. Mel quickly put two crab pots in the water and just as quickly caught three very large starfish! Where are the CRABS? We had a lovely salmon dinner anyway!
Wednesday, August 2, Baranof Warm Springs, Baranof Is. Alaska (46NM) We departed Cannery Cove in the fog and had to use the radar to avoid logs and of course <![if !vml]>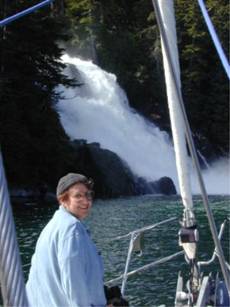 <![endif]>other boats. The fog was with us for about an hour. We saw a group of Sea Lions fishing off Pt. Gardner in Frederick Sound, so we gave it a try. No luck, we think the salmon were more concerned about being eaten that they were interested in eating themselves. Oh, well. We headed off across Chatham Strait to see the waterfalls we had discovered with Bo and <![if !vml]>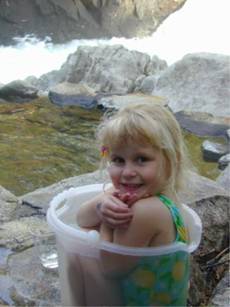 <![endif]>Cindy. The mountain peaks on Baranof were standing out vividly in the sunshine. We ended up at Baranof Warm springs and anchored in the same location we had before. Off to the warm springs, but this time we brought the bucket for Kelsey! All were warm and relaxed. We had another calm night and are very thankful for this streak of warm sunny weather we are having. (You know it had been bad when you call three days of sun a streak!)
Thursday, August 3, Honeydew Cove, Kuiu Is, Alaska (24NM) RJ was at the helm this morning as we left Baranof. He was very proud of himself that he drove out of the anchorage. We had a few clouds this morning but we could still see blue sky! This was a short day, which was very nice. We saw whales breaching at a distance and sea lions in Frederick Sound. Our anchorage was chosen based on the <![if !vml]>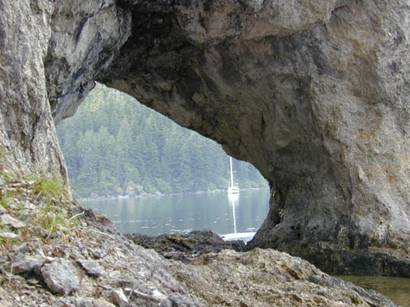 <![endif]>description of sandy beaches that would be good to run the kids around on. We arrived just before 3pm, and the beaches looked wonderful so we quickly and finally inflated the kayak! Mel took it for a spin to get used to it then gave the kids a ride. We paddled to a cave that was on a small island nearby but when we went inside Kelsey got scared, (Mel thought it was a little spooky too!) so we left. Eric then took it for a spin and Mel, Nana and kids went to the beach in the dingy. The kids had a blast playing with beach toys. Eric joined us from his adventure in the kayak. This beach had high bluffs and an arch in the rock that we walked through. It was very picturesque. When returning from the arch Joan slipped and fell on a rock. We had her rest for a while before we headed back to the boat. Mel took the kids to another beach so the kids could get their fix. <![if !vml]>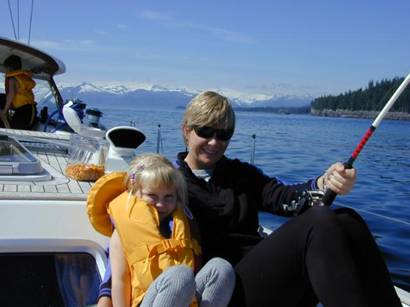 <![endif]>Eric and Joan stayed on the boat and enjoyed the sun. As we expected Joan began to feel a little stiff as the evening progressed and in the morning we were quite sure that she had badly bruised if not cracked her ribs. We had a large supply of Extra Strength Tylenol left over from Melís finger injury (which is doing much better) so the regiment began. Despite the unfortunate fall Joan managed to take in this truly beautiful anchorage Ė one of our favorites. The cave and the rock arch were spectacular and even the sunset was beautiful.
<![if !vml]>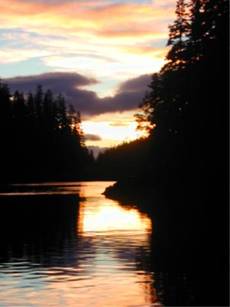 <![endif]>Friday, August 4, Petersburg Alaska (59NM) We had an earlier start this morning as we wanted to get to Petersburg while some of the stores were still open. Joan is still very stiff and in pain with her ribs. The kids have been told she is fragile and are not to climb on her. We have given her the option to try and catch a flight out of Peterburg, but she will see how she feels in the morning. We spent the majority of this passage listening to a Coast Guard drama. It was regarding a passenger on the vessel Observer who had gone on shore with a group and was suffering a cardiac arrest. It was interesting to listen to their procedures and responses. Although we felt bad Joan was in pain with her ribs, we felt lucky we were not in that situation. They dispatched a coast guard cutter and helicopter and ended up airlifting the man to Sitka. We never heard an update of his status, but hope that he is OK. We arrived in Petersburg about 4pm and took the kids to the elementary school to play on the playground. We met a woman outside the restaurant who was traveling alone and originally from Kirkland so we invited her to join us. She was quite peculiar, but in conversation we discovered she was the niece of a long time family friend and old neighbor of Melís family. It truly is a small, small world. We returned to the boat to turn in and proceeded to listen to he hustle of this large fishing town through the night.
Saturday, August5, St. John Harbor, Zarembo Is, Alaska (23NM) <![if !vml]>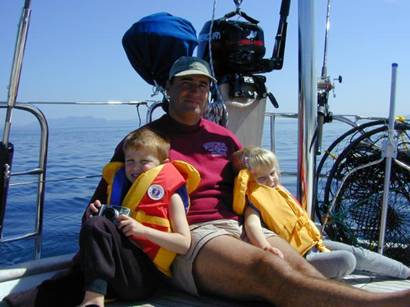 <![endif]>We left Petersburg on schedule at 4:30pm, after doing laundry, grocery shopping, a big beer battered halibut & chip lunch, and a little souvenir shopping. We left late, as it is important to leave at the end of a high tide when passing through Wrangell Narrows. Wrangell Narrows extends for 21 miles and is quite intricate in areas. There are over 60 navigational aids to direct you. We also thought it would be a good idea to make Sunday a short day due to Joanís scheduled departure in the evening. Mel was very excited as we approached this anchorage due to the numerous amounts of crab pots in the water. There is hope after all! The anchor was hardly set when the crab pot went in the water. Joan thought Mel was impatient when she pulled it up after 12 minutes, but she had 7 in the pot and one was legal! We did the crab dance for the first time since Deana was aboard! She proceeded to bring up over 25 more throughout the evening while watching a beautiful sunset but all were too small. We were still full from lunch so we cooked up one crab for the three of us and that was plenty!
<![if !vml]>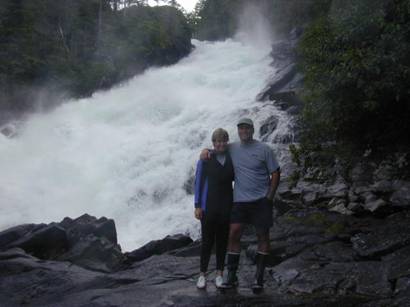 <![endif]>Sunday, August 6, Wrangell Alaska (NM) Mel did a bit more crabbing this morning before we left St. John Harbor. She caught about 10 but all to small! Whatís the deal? Our trip to Wrangell was short, easy and calm. The clouds are building and we are hoping not to loose the sun, its been so nice!
We went into town when we arrived in Wrangell. It is very small and most of the shops were closed but we did find a Burger Hut the served some awesome Halibut Burgers. Eric took Joan to the airport and helped with her bags. We were hoping for a quiet evening, but RJ proceeded to get a very large sliver in his toe from the dock. He became very upset when he realized we had to get it out and we spent the next 2 hours between noodles, a movie, soaking the foot and a promise to make gingerbread cookies before we got it out. It was not the quiet evening we were hoping for.
We will be meeting up with our next crew, the Shurtleff family in the morning. Rob and Cindy have done a lot of sailing as well as their children Kyle and Katie. RJ and Kelsey are looking forward to some playmates! Stay tuned for the next update to be sent from Ketchican!
Alaska Trip Home Page Previous Log Next Log Update