Sula 2000 Alaska update #3
Greetings folks. Here's the third trip report from our sailing adventure. There are more pictures in this one, but I've reduced the fidelity to save on message size. The attached Word document is about 500kb.
Next update should be in about a week once we get to Petersburg or Wrangle.
Hope you are having as much fun as we are!
Cheers,
Eric, Melissa, RJ and Kelsey
Aboard 'Sula'
Juneau, Alaska
<![if !vml]>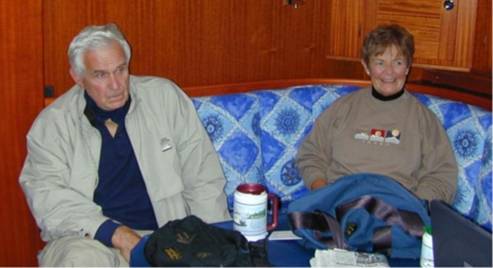 <![endif]>Saturday July 22 (Mel and Eric's 11 year anniversary) Sitka Alaska (19nm) We had an uneventful trip to Sitka this morning, in just over two hours. We did see several puffins and a few kayakers (burr!!) in Sitka Bay on our way in past the many rocks and islets that mark the entrance to this former capital of Russian Alaska. We wanted to make an early start of it in the morning, so fueled up at the Texaco dock before getting a slip assigned. It had been raining fairly hard off and on all morning. Once in the slip, we regrouped and Mel and Eric went to do laundry while Bo and Cindy ran the kids around and did some shopping in the tourist district that cater to the many cruise ships that stop here during the Summer. We met up with them in town a few hours later and walked and shopped some more. We ran into Marmit and Poppy (Mel's parents, Margaret and Ken, are our next guests) and looked around a bit more before dinner. The shops are a mix of tourist junk and quite worthy local art with a strong streak of Russian imports and trinkets including carved ivory and lots of furs. Kelsey found a pink, Russian doll she had to have and Mel bought RJ a small rabbit fur so he would stop playing with Kelsey's hair. We had a great dinner at the Bay View restaurant (huge portions – Cindy's Salmon was enough for two!) before it was back to the boat and then off to grocery shop and finally go to bed.<![if !vml]>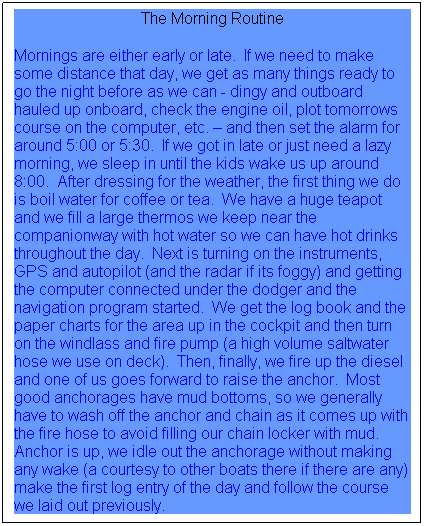 <![endif]>
Sunday July 23, Porcupine bay, Chichagof is. Alaska (62nm) It was sad to say goodbye to Bo and Cindy, but the kids were ready for some fresh victims. We left Sitka Harbor around 9am and soon passed through Olga and Neva Strait. We would periodically see one or several bald eagles and occasionally a golden eagle flying or fishing as we have for most of the trip, but as we passed Highwater Island, we spied over a dozen pick flamingos (!) perched in a tall cedar! <![if !vml]>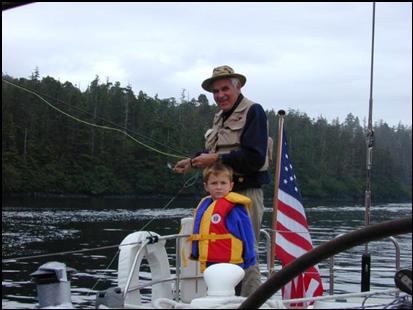 <![endif]>Clearly the result of an Alaskan sense of humor, but it did have us scratching our heads for a minute… The Gulf of Alaska on the West Coast of Baranof Island is actually pretty mild this time of year as expected - 6ft seas from the West with very light winds from the South. All faired very well even though it was a bit uncomfortable taking seas on the beam as we motored North with the main up to damp the motion. We did see a few Minke whales, some rather close. We were glad to get to our anchorage, which was very calm and protected from the swell and had a beautiful waterfall at the head of the bay at the east end. Ken tried to do a bit of fly-fishing off the stern but no luck. It's getting cold. We have the heat on!
Monday July 24, Bartlet Cove, Glacier Bay, Alaska (53nm) We departed Porcupine Bay around10am and headed directly up Lisianski Strait along the East side of Yakobi Island to avoid the west swell we encountered out in the Gulf yesterday. The strait was very calm and deep with high mountain peaks covered with snow patches flanking both sides. Margaret took the helm and even guided us<![if !vml]>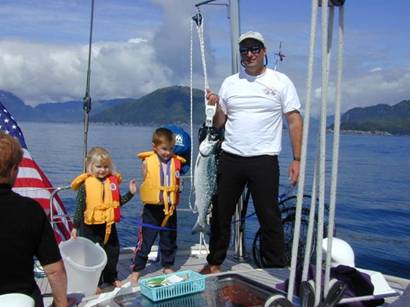 <![endif]> through the narrows. At times, it was actually warm and sunny! The weather remained calm as we entered Cross Sound. We slowed to troll after seeing some fish jump and after only about ten minuets, Eric caught an 8lb Coho Salmon! Mel caught one about 20 minuets later but it was only about 5 lbs and we had enough for dinner and then some so we let him go. Ken also did some trolling with his Steelhead fly fishing rod. Later that afternoon, we crossed the park boundary line, entered Glacier Bay and checked into Bartlett cove to receive our mandatory boater orientation. Bartlet Cove is well within the park boundary and is where the Glacier Bay ranger station is located as well as the Glacier Bay Lodge. You can get fined for even entering the bay and going to Bartlet Cove without a permit, so we were careful to radio ahead and let them know we were coming. We tied up to the dock for a few hours (they have a 3 hour limit) and after walking around and running the kids around on shore, we went and anchored out in the cove and had a great salmon dinner!
<![if !vml]>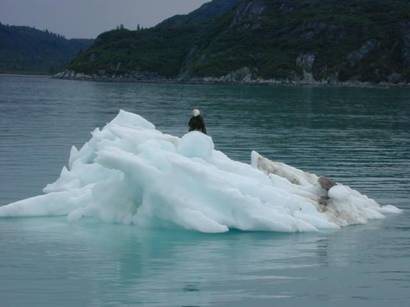 <![endif]>Tuesday July 25, Reid Inlet, Glacier Bay, Alaska (60nm) We departed a bit later than we had planned this morning as Eric had to bypass the propane solenoid, which had decided to freeze up and we just had to have some coffee! Once under way we saw several otters and hundreds of birds. Glacier Bay is an incredible place to see wildlife and this became very apparent today. While Kelsey kept a lookout for "ice cubes", we listened to other boats discussing Orca sightings on the VHF, but did not see any ourselves. As we got further up the inlet the water color continued to change. It started out deep green and then turned into a milky, aqua marine. We began to see ice chunks (Bergy Bits) about half way up the west arm and two had Bald eagles on them, who were polite enough to stick around while we took pictures. Eric caught a smaller chunk with the net for glacier-ice martinis later. Motoring through the<![if !vml]>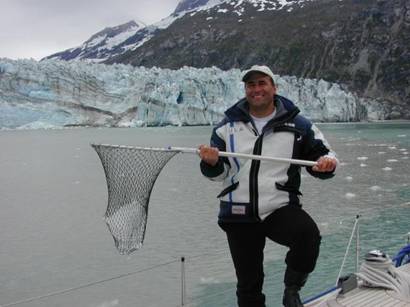 <![endif]> ice, we approached the Lamplugh Glacier, which was calving some and then attempted to navigate up the inlet to the John Hopkins Glacier, but the inlet was so choked with ice that we could only view it from a distance. Backtracking, we anchored on the East side of Reid Inlet about ¾ mile from the Reid Glacier. Eric took the kids exploring on the beach. We were glad for our Motorola hand held radios as Ken soon spotted a Grizzly close to their location! We radioed, and Eric promptly motored to a new location! During the night, we heard cracking sounds like gunfire and calving which sounds like crashing thunder. Small bergy bits would occasionally bump up against the anchor chain or hull as the tidal current carried them out of the inlet.
Wednesday July 26, Sebree Cove, Glacier Bay Alaska (48nm) We spent today in Tarr Inlet, going to view the Margorie and Grand Pacific Glaciers. The Grand Pacific is a mile and a half wide and is mostly covered with dirt and rocks. The Ma<![if !vml]>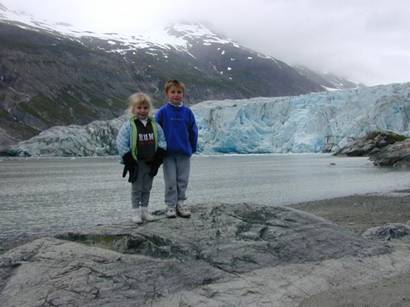 <![endif]>rgorie Glacier on the other hand is the quintessential, beautiful blue tidewater Glacier with 200-foot high cliffs of ice calving into the deep bay. We spent quite a bit of time here watching the ice calve and the under-ice river spew silt and gravel into the inlet. <![if !vml]>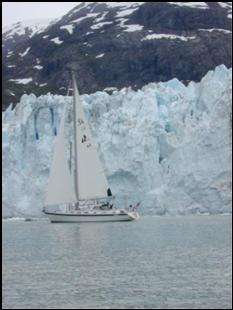 <![endif]> Mel took the opportunity to get into the dingy and take some photos of Sula under sail in front of the Glacier. We look deceptively close, but remember the glacier is over 200 ft high and our mast is only 76ft. As we were preparing to leave one of the many cruise ships we've seen came into the bay. Everyone on board must have been on deck. We saw many camera flashes and as we passed behind the ship, it was actually listing to port from the weight of all the passengers on one side! Pretty humorous. We dodged more bergy bits and made our way to Sebree Cove, strategically located at Tlinget point, where the West and East arms of the bay meet. Eric took the kids to shore again, but no bears this time.
Thursday July 27, Bartlett cove, Glacier Bay Alaska (69nm) We set the alarm this morning as we had a lot of ground to cover. We headed up Muir Inlet, the East arm if Glacier Bay, towards the Mcbride, Riggs and Muir Glaciers. <![if !vml]>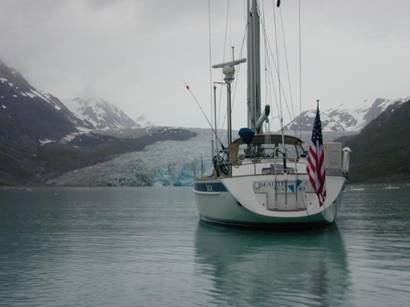 <![endif]> They were all very large and beautiful but were not as active as the Margorie Glacier the day before. At the head of the Muir Glacier we reached 59 degrees 05.518 <![if !vml]>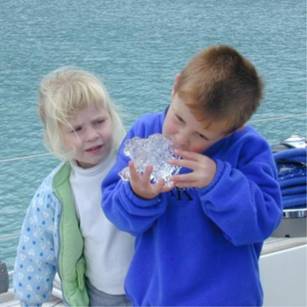 <![endif]>minutes north latitude, the farthest north we will be on the entire trip! Today was also a big day for spotting birds - lots of Terns and some Eagles. We ended back at Bartlett Cove and went to out to dinner at the Glacier Bay Lodge. Mel had King Crab Legs, as she has yet to catch a single thing in the crab pot this leg! Dinner was great and the kids ran around on the beach again. Margaret and Ken went for a walk on a beautiful nature trail that led to a small lake. It felt good to stretch our legs. <![if !vml]>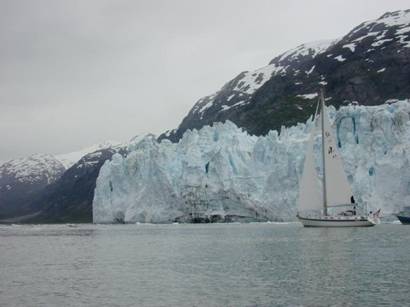 <![endif]>
Friday July 28, Funter Bay, Mansfield Peninsula, Admiralty Island Alaska (51 nm) We departed Bartlet Cove just before 11am, after a marginal breakfast at the lodge and some running around for the kids. Icy Strait was relatively calm compared to the forecast of 4ft seas and 20kt East winds on the nose. We saw some fish jumping so in out came the poles. Eric caught a 7lb Silver Salmon, and Mel had a large fighter on the line but it got away. The winds did pick up as we crossed Chatham Strait. We were getting wave action on the beam but it never became uncomfortable. The barometer is on<![if !vml]>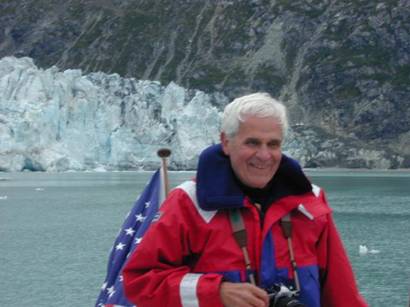 <![endif]> the rise - it was 1003 millibars this morning and up to 1014 this evening and still rising. There is a ridge of high pressure moving on shore with a big low following. Gales are predicted for Sunday night and Monday. The current was against us all day so we logged 51NM when it was actually 41NM over ground. Mel finally caught a crab! It was too small, and female, and had only one claw, and so back it went, but it was still a crab! We settled for Steak and Salmon for dinner.
Saturday July 29, Juneau Alaska() We departed Funter Cove in 1ft chop and some rain. We are looking forward to the possibility of a little sun as the barometer has reached 1019! <![if !vml]>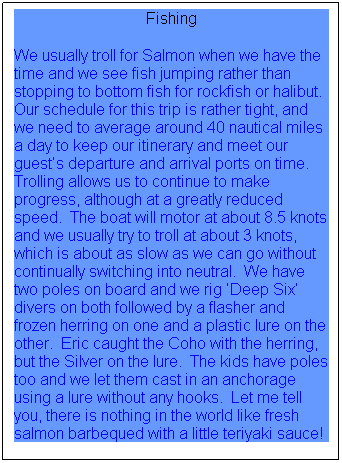 <![endif]>We will be in Juneau in about 5 hours and then our shore routine will begin – doing laundry, grocery shopping for fresh foods, hitting the marine store for the never-ending list of boat parts and spares (this time a few propane solenoids) clean the boat, meet up with new crew and go to dinner. This coming week, Joan, Eric's mom is back with us for a week until Wrangell. We had a great time with Marmit and Poppy. It was fun for us to watch them with our kids for such an extended period. We also want to thank them for the many games of 'Go Fish' and 'Concentration' that they played with them. <![if !vml]>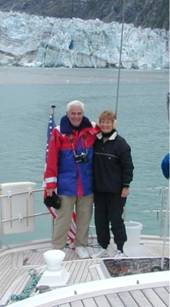 <![endif]>RJ is especially happy as he got gingerbread cookies twice due to Marmit's delivery of more cookie dough! We are expecting another low to come in Sunday evening and have a forecasted gale wind warning on Monday. Stay tuned for our next update to see how we fare! Also, thanks to all for your messages and comments on our reports! If you would like to send us a reply message, PLEASE do us the favor of removing this document from the reply. It will save us modem time.