Greetings folks. Here's the six and last trip report from our sailing adventure. We apologize for being so late with this - the real world has intruded now that we have returned home and it's taken us a month just to clean up our log and add some photos.
It's been a great Summer. Thanks for sharing it with us.
Cheers,
Eric, Melissa, RJ and Kelsey
Yacht 'Sula'
Back Home in Issaquah, WA
Wow! Finally, this is update number 6! This update is long overdue and we are sorry! As most of you know by now, we did not sink and we made it home safely. We have been home now for over a month and have thought about this log everyday. We came home to a whirlwind of activity including Eric going back to work, RJ starting Kindergarten and Kelsey preschool! We were not sure when this log would ever get sent and had no intention for it to take so long. So here it is! We hope you have enjoyed following our adventure and would love to hear any comments you might have. Thanks for all of your past messages and wishes for fair winds!
<![if !vml]>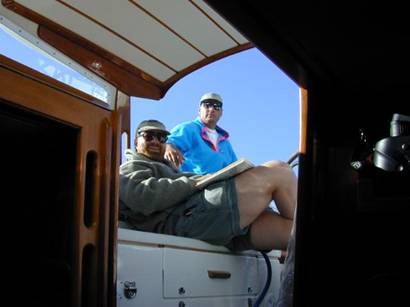 <![endif]>Saturday, August 12, Foggy Bay (36NM) Departed Ketchikan later than planned at 3pm. We said good-bye to the Shurtleffs this morning and welcomed Dave Cornfield on board. The men (including RJ) went to the barber for a trim. RJ came back with a complete buzz asking everyone "how do you think I look?" He looked very cute, Eric was concerned that mom would not be happy, but she thought he looked great. Mel and Kelsey did the last grocery shopping and then we were off. We made a little headway today in this long week ahead. About an hour out of our destination we were hailed on the VHF by the sailing vessel Solitude. They were having some trouble with their navigation computer, GPS, and in general did not know quite where they were. They asked to follow us into our anchorage, which was encumbered with rocks and reefs, and if possible for help on their computer. How lucky could they get (meaning help with the computer?) Anyway, after anchoring in this beautiful spot, and having some dinner- Eric and David (who Eric met at Microsoft) went to help with their problem. It did not take too long, they made it back just as Mel was done with the dishes and putting the kids to bed! What timing.
Sunday, August 13, Lawson Harbor, Lewis Island (69NM) Went and picked up the crab motel (a gift that the Scurtleff's gave us in Ketchican on their departure – crabs check in, but they don't check out) that we dropped on our way into Foggy Bay. We were disappointed to find it empty. Oh well, we will keep trying! <![if !vml]>
<![endif]> We had calm weather while crossing Dixon Entrance. Hours later, we received another call from Solitude who were miles behind us and having trouble still with their software - it was working but they had no idea how to use it. With some explanation Eric advised them nicely to read their manual. Another call shortly raised more concern. They were going to Prince Rupert like us to clear customs, and would have to navigate Venn Passage which is narrow and intricate with strong currents and many range markers requiring careful navigation. It soon became apparent that they did not have any paper charts on board (yikes!). Eric spent almost 2 hours on the radio talking them through how to pull up the right information on their computer. With advice to purchase paper charts when they arrive in Prince Rupert we closed radio contact. Hours later, they made it safely to Price Rupert by following another sailboat through the passage and arrived for the night on the Yacht club dock which we were about to depart having cleared in. Eric and David went over again and configured their program to automatically boot to the chart view and then bid them farewell and good luck. We departed shortly thereafter for our evening destination. We had good winds and sailed comfortably to Lawson harbor and arrived at 8pm for a beautiful moon rise! Winds are forecasted to go SE and to build. We shall see. <![if !vml]>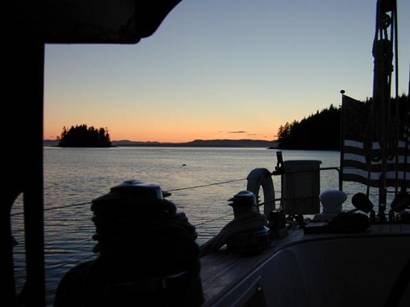 <![endif]>
Monday, August 14, Dunn Passage, Weinburg Inlet, Campania Is. (68NM) What a day! We picked up the Crab Motel with one legal but female crab in residence. Females are legal to keep in Canada, but we always throw them back. But we are getting closer! We navigated Ogden Channel, Petrel Channel, Principe Channel, Nepean Sound and then Estevan Sound before the day was over. We were off the beaten track and saw nothing but a few fishing boats. It was a very rugged coastline. Forecast calling for a new front with strong SE winds to come, we sailed the last portion of today's leg hitting 8kts! Dunn passage was amazing with a maze of islets and lagoons. There were miniature archipelagos of over a hundred islets covered with old growth cedars. We saw several bald eagles in the entrance. It was a beautiful spot. We will have more exposure and winds tomorrow, but we have options to go inland if the weather turns, which it might.
<![if !vml]>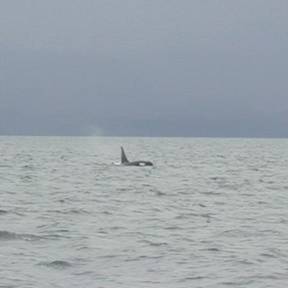 <![endif]>Tuesday, August 15, St. John Harbor, Dyer Cove (79NM) Headed out this morning with the current against us. There were swells building from the west between the islands. We have passed a few Cruise ships in Laredo Channel. As we entered Laredo Sound we encountered some rain and a pod of approximately 30 Orcas! This is the second sighting (the first being in Glacier Bay- and then only a couple). There were several large males and many juveniles, traveling in groups of three to five. We coasted with them for a while before heading to more exposed waters. Once outside the lee of Aristazabal Is. the waves increased in size and it began to get cold. The deck was wet from the bow spray. We began to sail after rounding McInnes Island and hit 8.8kts. Mel was at the helm, ducking under the dodger to avoid the spray. The waves were on the bow for a few hours then we turned to head to Dyer Cove. We had about an hour with waves on the beam, but it never became uncomfortable. The kids played with hand puppets<![if !vml]>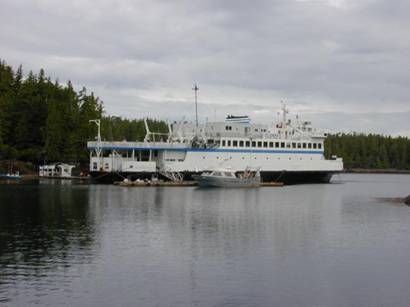 <![endif]> below. We have very good protection in this anchorage; the approach was a few zig zags and the entrance quite narrow. The weather forecast is for increasing winds and gale force expected tomorrow. We will duck back inside and travel the more protected Fitz Hugh Sound to avoid the worst of it. At the entrance to St. John Harbor is the St. John Fishing lodge. It was the Queen of the Islands, a former B.C. Ferry that has been converted to a fishing lodge. We visited once we anchored. The guests were coming in with their catches for the day. Some very large fish! The kids played Putt Putt Golf on the top deck (no kidding!) RJ even got a hole in one! There was a full service lounge and restaurant as well as arcade games and a hot tub! It was a sight to see out in the middle of nowhere.
Wednesday, August 16, Sherewater Marina, (24NM) <![if !vml]>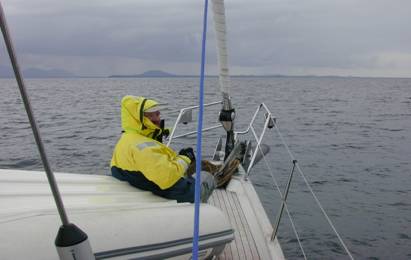 <![endif]>We departed through the narrow entrance today, recording 9.5ft of depth…very close to grounding, however, it was low tide and we would be lifted off. Eric always says its not a matter of if but when we ground the boat. All Mel knows is she does not want to be the one at the helm the first time that happens! The director of the fishing lodge told us where to fish so of course we spent over an hour trying to land a fish. No luck! I guess we need to invest in a fish finder (and patience). We proceeded to sail (reefed) for 3 hours in variable winds (10-30kts) in Seaforth Channel. As we approached Sherewater the wind began to gust and we were healing with the rail in the water. Mel was below trying to play 'go fish' with the kids. Kelsey dropped a card and slid on her tummy from one side of the boat to the other. Eric and Dave were tacking through submerged rocks in a fairly narrow channel dealing with the gusts of 30kts, thankful that Mel was below not knowing exactly what was going on! It was our plan to get gas, have lunch and take off for Fitz Hugh Sound. There was a wait for gas and as we ran the kids around and ate lunch we determined we should stay the night. With a late start, gusty weather, and an unknown anchorage, we decided it would be safer to stay at the dock and leave early for a catch up day!
Thursday, August 17, Skull Cove, Bramham Is. (89NM) RJ turns 5 today! It was an early morning - up at 5am and dark. We had wind gusts through the night up to 28kts. At 2:30am Mel woke up because something was walking on the deck! Eric awoke as Mel was scrambling out to get the dog off the boat. By the time Mel opened <![if !vml]>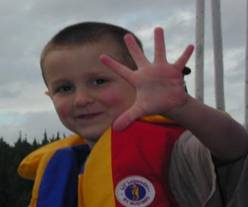 <![endif]>the companionway whatever it was, was gone. She did not see anything on the boat or on the dock. It became a huge mystery. Eric thinks it was an otter, Mel thinks it was a dog or raccoon. I suppose we will never know. We experienced moderate winds to 10-20kts for most of the morning. As we headed down Fitz Hugh Sound, the Coast Guard was reporting an overdue vessel that we ended up spotting. It was at the same time that a Coast Guard helicopter was heading in <![if !vml]>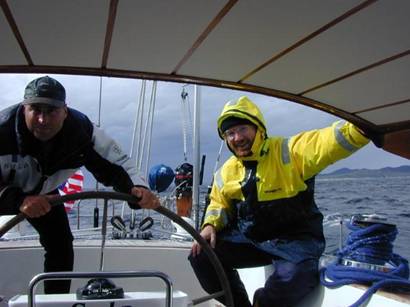 <![endif]>our direction. They began to hover over the boat and some radio contact was made. It has been very interesting listening to the number of calls that the Coast Guard is responds to. The seas became larger and confused as we approached Queen Charlotte Sound. It also began to rain heavily. There were many logs and patches of kelp in the water. We went through a patch of kelp and our speed dropped so we stopped and reversed to clear the kelp. As we regained speed and Eric checked the engine we hit a log. Its an indication that there were many logs as both Mel and David were looking out - the confused seas makes them harder to see. Everything was fine but it was a very tense few moments. Eric will check the bottom when the weather permits. It began to gust again with winds over 30kts. We were seeing large white caps on 4-5ft seas on opposing swell! Some thought it was fun, RJ just got sick again (the only one to get sick so far, and on his birthday too!). We decided to bail out and go to Skull Cove instead of going on to Blunden Harbor. This was a well protected spot and the holding was good. Shortly after we anchored we had a few gifts for RJ to open. He was very excited that it was his birthday and he was 5 now! Mel asked him what he wanted for his birthday dinner and he exclaimed "Fast Noodles" (Top Ramen) which was fine with Mel! We will have another little party when the Goliks are on board.
Friday, August 18, Sullivan Bay, N. Broughton Is. (37NM) We departed Scull cove a little more casually this morning <![if !vml]>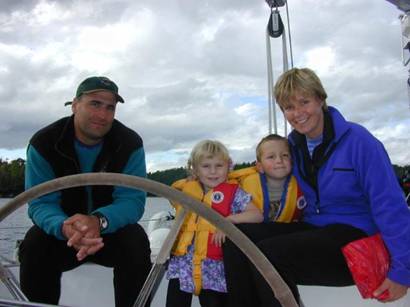 <![endif]>after the headway we made yesterday and spent most of the day in the Queen Charlotte Strait. It was raining heavily this morning as we left the anchorage through the many islets and was quite beautiful. It would have been nice to get the kids off the boat to run around but they are still doing great. The current was with us and giving a boost but the opposing wind was creating steep seas with whitecaps. It was very hard to see logs. The winds started at 19kts this morning but had died completely as we approached our destination. We found it hard to believe that it could still be so cold in the middle of August. Sullivan Bay is a repeat stop. We were here for the 4th of July celebration and the Sula dancers. It is a very amusing spot with over 4,000 feet of connected docks with cute street names like Sushi Roe and an abundance of flower pots lining the walk. We will certainly stop by again next time we are this far north.
Saturday, August 19, Echo Bay, Windsong Sea Village (26NM) <![if !vml]>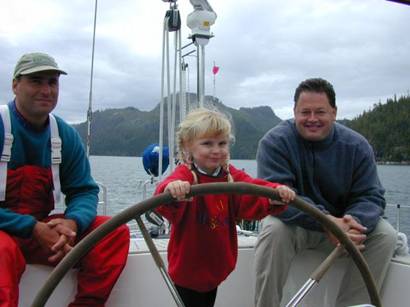 <![endif]>It poured heavily all night! We left Sullivan Bay for the short trip to Greenway Sound Resort (which, by the way, does not include a hotel) to pick up Kim and Brian Golik and send off David Cornfield. We were very thankful for David's company this last week, for as we expected on this leg, we covered many miles and had some heavy weather and David's experience was very welcome. After watching David's plane take off and having lunch we departed and quickly came into 10kt winds and decided to sail. It was a great start to a week. It rained on and off all day (this is August?) with a few sun breaks. We dropped of the crab motel before tying up at Windsong Sea Village. We stayed here on our way North and were very disappointed this time to find that the floating bakery was gone! (Not sunk just moved) We visited the gallery and the girls who were running the little guest marina. RJ and Kelsey were able to take the paddleboat out for a spin (with a tether). It was very cute watching them try to control the boat, then Eric stepped in and pulled them while running on the dock. They had a blast! We surprised Kim and Brian with bergy bit martinis, that went over well!
Sunday, August 20, Cutter Cove, Mainland (30NM) It ra<![if !vml]>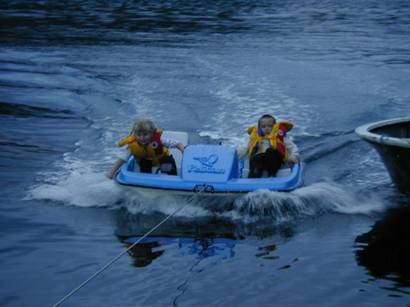 <![endif]>ined most of the night and the kids got a final paddleboat ride before we fueled up this morning at Echo Bay Resort and picked up a few supplies. Before leaving the area we picked up the crab motel - just a starfish, how disappointing. We did a little fishing today with no luck. We went through Tribune Channel, with towering granite cliffs and a few waterfalls. We found one that was quite spectacular and just drifted around it while we ate lunch. It rained on and off all day but the barometer keeps rising so we anticipated the sun at some point! We are seeing a lot of fishing boats in the area, and there were 7 other power boats and one sail boat in this cove. This was the most crowded we've seen but there was still plenty of room. We dropped the crab motel before we entered. Maybe this time! We had a birthday party for RJ tonight - his favorite tacos, cake and ice cream. Kim was amazed that Mel brought stuff to make, frost and decorate a cake. He enjoyed the cards and few gifts that he received from family and friends. Kelsey was not happy that it was not her birthday too. We did get one legal crab in the pot amongst many. There is hope after all!
Monday, August 21, Bessborough Bay, Mainland (36NM) We awoke to sun this<![if !vml]>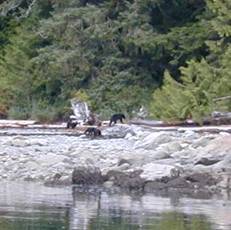 <![endif]> morning! Yahoo! We put shorts on to honor the sun god! We caught two more legal crabs in the pot and then picked up the crab motel on our way out of Cutter Cove this morning and 3 more legal crabs out of 13 total! Our first haul with the motel! Crab for dinner tonight! We arrived at our anchorage about 3pm and promptly saw a mother black bear and 3 cubs walking on the beach and eating salal berries. We thus opted to wait for a while before going to the beach! The salmon were very active jumping all over the bay! Brian went out in the kayak but had no luck. They were teasing him by jumping very close. We imagined what he would do if one jumped in his lap! Eric even went in the dingy and had no luck! Stupid fish. Once the tide finished coming in we built a beach fire and made smores! It was very fun! RJ and Kelsey played on the beach and in the water like it was 80 degrees! They will sleep well tonight! We decided the bears may not come to the beach for a week after all the noise we made. It was a good thing we were the only boat here!
<![if !vml]>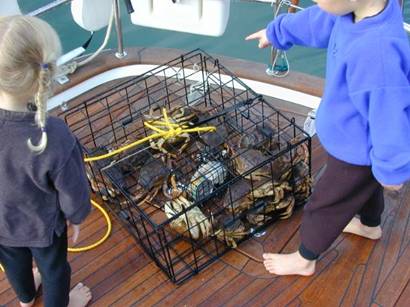 <![endif]>Tuesday, August 22, Blind Channel, W. Thurlow Island (27NM) We had a lazy morning as we were recovering from our beach party last night and caught another legal crab in the pot! Today is Kim and Brian's Anniversary! We saw another mother black bear with two cubs on shore, and then a large single black bear on shore along the way! We have now seen 8 bears on this leg! We had a strong current against us which made for slower travel. There are many logging operations in this area. We saw logs being dumped into the water with a waiting tug. We arrived at Blind Channel Resort around 3pm. Kim and Brian did the hike to the 800yr old tree that we did earlier on the way North. Mel and the kids played on the beach while Eric went troll<![if !vml]>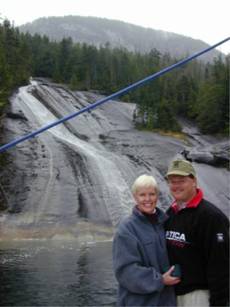 <![endif]>ing in the dingy! No luck. Stupid fish. We had an awesome dinner of Steak, Crab (fresh!), potatoes, salad & bread! It was a great Anniversary celebration! We are stuffed!
Wednesday, August 23, Octopus Islands Marine Park, Quadra Island (26 NM) Another casual departure this morning. It is such a change from the previous week. We are really enjoying this pace, in that we can go for short distances, fish, explore coves and inlets and still get to the days anchorage with time to spare. It was a quick trip back to Johnstone Strait then sailing through Okisollo Channel and rapids before we arrived at Octopus Islands Marine Park. It reached 80 degrees today. WOW, finally! Along the way Kim gave Mel a special treat, a pedicure! She did a great job considering she was on a boat rocking in the rapids. Mel enjoyed it, and then the kids had their toes polished too (RJ a very light pink and Kel bright pink)! This anchorage was quite crowded compared to what we have been experiencing these last few weeks. There were <![if !vml]>
<![endif]>about 20 boats (but still plenty of room). Eric took the kids exploring by dingy while Brian made appetizers. No offense to any previous cooks, but Brian could be a chef at a fine restaurant and creates fabulous meals and snacks with ease. We had a beautiful sunset. While exploring, Eric and the kids met up with some folks on another boat - the Orca III with kids aboard. We will meet up with them in the morning for a hike!
Thursday, August 24 Walsh Cove, W. Redonda Isl (23 NM) We met up with Orca III this morning as planned. They have been here before and told us about a fun cabin to walk to on one of the Islands where people leave creations giving their boat and crews names. On Orca III we met Steve, Deonne, Kyle (6), Maya (3 - 1 week younger than Kelsey) and Emma (4 months). They were a very fun family who live on their boat in Vancouver, Canada. The kids had a wonderful time playing together. Eric created a plaque with the Sula graphic and our names and then hung it from the rafters of the cabin with bright pink line. This cabin was full of fun, intricate and very detailed artistic creations –from beautiful wood carvings, paintings and collages to wind chimes, poems and sculptures all created from things found on the beach or on boats. People are incredibly creative! It was a very fun stop. The Orca III offered to follow us today in hopes that the kids could play more and we gladly accepted. We depar<![if !vml]>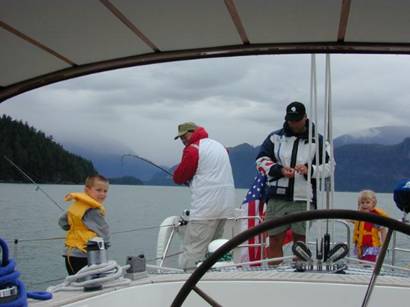 <![endif]>ted with the tide in that we had to go through "The Hole in the Wall" a narrow channel that connects Okisollo and Calm channels. It is recommended to navigate only at or near slack water due to the eddies and turbulent waters. We hit 11.4 knots over ground when going through and had no troubles. We sailed most of the day in light winds before arriving in Walsh cove. It was again very crowded but a much smaller anchorage. We went towards the back of the cove and stern tied. The Orca III rafted to us (we tied the boats together) and the kids spent the next 4 hours playing and moving from boat to boat. We had a potluck dinner (again great) shared boating stories and watched for shooting stars.
<![if !supportLineBreakNewLine]>
<![endif]> Friday, August 25 Roscoe Bay, Cortes Is (23 NM) We said good-bye to Orca III this morning after coffee and muffins. We said we would try to get together at another time, which turned out to be sooner than we thought. Eric wanted to go to Pendrell Sound, a large inlet on Redonda Island known for its warmer water so he could dive and look at the bottom of the boat. He was checking on its condition after this long trip and to see what the few sticks and small logs we encountered might have done. Orca III was heading there as well. We ended up rafting to them after they anchored and Eric and all the kids went swimming. They had a great time, but it was too cold for Mel! They showered on the stern of the boat when done! Ah. Clean kids before dinner. What bliss. We were visiting a bit when the wind suddenly picked up. It went from nothing to gusts to 21kts. The Or<![if !vml]>
<![endif]>ca III's anchor began to drag and we were in danger of drifting into one of the many aquaculture rafts set up in Pendrell sound. We quickly collected the right kids on the right boats and pushed off. The wind continued for the next 30 minuets and died again. We entered Roscoe Bay on the rising tide. We will not be able to leave here until 1:30 pm tomorrow due to the entrance drying at low tide. We need 7 ½ feet to clear. Again there were many boats and tons of Jelly fish. It's raining a bit so we will go to shore in the morning.
Saturday, August 26 Squirrel Cove, Cortes Is (9NM) It was a casual morning as we waited for the tide to come in. Eric and Kelsey went for a kayak ride, RJ took Mel for a ride in the dingy and Kim and Brian read in the sun. RJ is an excellent captain of the dingy, he could go by himself if he could start the motor. Today was a minor exception, as we were heading towards the narrow part of the exit for Roscoe Bay<![if !vml]>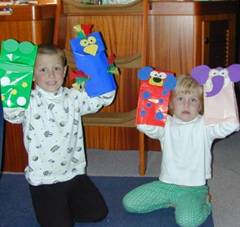 <![endif]> we hit a few rocks (oops!). Fortunately (for Mel) there was only very slight prop damage! We went on the short hike to Black Lake, where RJ and Kelsey took a little dip - it was a little cold for the grown ups! When the tide was high enough we exited. It was an uneventful trip to Squirrel Cove. We anchored off the town and went in for provisions, ice cream cones and garbage drop off. They also have a small gallery that displays local artists works. Due to the departure of Kim and Brian tomorrow (time flies) we decided to go into Squirrel Cove for the night. This was by far the most crowded anchorage yet. There were 35-45 boats of all makes and sizes. We found a good spot where the sun would shine for a long time, and laughed about what we did this past week. Kim made an awesome artichoke dip appetizer and Brian again made an incredible dinner. We had flank steak with a spicy black bean sauce that Brian created. Mel did a good job cooking and provisioning for this trip, but with Brian's flair & talent for cooking we've never eaten better! It was a great last night with guests. We will be by ourselves after this. We have decided to make it a fast trip home, as we have relatives in town that we would miss if we took a week. We are also missing our friends, and it will be nice to have a few days to settle in before work and school begins.
Sunday, August 27 False Bay, Lasquiti Is (50NM) We took the short trip from Squirrel Cove to Refuge Cove (4 NM) in the morning. We had the last meal, breakfast burrito's, did the, um, 'town' (they have a latte' cart that sells Starbuck's) and watched as Kim and Brian Flew off! We departed just after their Kenmore Air flight at 1:45pm for the first of three long days to get home. We were fortunate to have the wind with us and sailed for over three hours at almost 8kts. The weather was beautiful. As we were heading to Lasquiti Is. we heard another Coast Guard call. This one regarding an abandoned dingy that was just a few miles away. Eric thought it would be a good idea to go check on it even though we were expecting to get in late. We did locate the tender, a very shabby but colorful wooden row boat with no signs of life aboard. We contacted the coast guard to tell them of the location and status. They were concerned that someone may have fallen overboard. It did not appear that anyone had been in the boat and we guessed it had broken away from a dock somewhere. Fortunately the coast guard did not request we tow it to our destination. We left it floating in solitude. It made a pretty picture anyway. We arrived in False Bay almost an hour after sunset, which was incredible. As it descended and disappeared behind Vancouver Island the entire sky went purple in a flash. We had not seen anything like it the entire trip. We had just enough remaining light to get the anchor down. We had eaten underway so it was to bed for all, as we were planning an early and long run for tomorrow.
Monday, August 28 Friday Harbor Marina, San Juan Island (86 NM) We were underway as planned just after 5:30am. It was still quite dark. Most of the boats we anchored by will never know we were there, as it was dark on arrival as well as departure. We never really saw the town of Lasquiti but there is a public wharf and fuel available for the next time we stop. We <![if !vml]>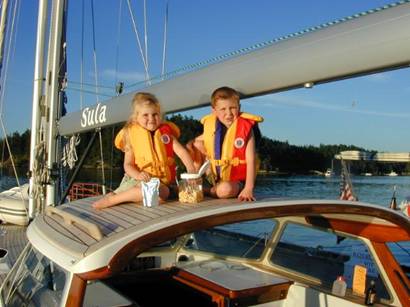 <![endif]>were hoping for a few hours under our belts before the kids woke up, but it didn't happen. RJ was up just after 6am and was looking forward to watching the sunrise with us. Kelsey joined just in the nick of time and enjoyed the sunrise as well. We were sailing a broad reach for a few hours with a comfortable 15kt wind. As the wind dropped the wave action became uncomfortable and poor RJ got seasick again. This makes 4 times now, but each time he recovers and rallies faster. Mel is spending time below reorganizing and cleaning as we plan to be home tomorrow night. Mt. Baker was making a statement on the port bow and you could tell we were getting closer. As wonderful as this trip has been, when you know you are close you just want to be there! We re-entered the USA at 4:45pm! Friday Harbor is just around the corner! We arrived and cleared customs and were tied up to the dock shortly before 6pm. The weather was beautiful and the kids played with their giant squirt guns before we went to town. We stopped off at the Friday Harbor wine cellar and restocked our wine supply, then went to dinner at 'The Place Next to the Friday Harbor Ferry'. Poor choice of name, awesome food!
Tuesday, August 29 Elliot Bay Marina, Seattle (67NM) Eric went to town and got latte's and then we were off! We motor sailed for a while with 24kt apparent winds. It helped steady the boat. We made it to Port Ludlow just after 1:30 and had lunch with Mel's parents and ran the kids around before making the final leg. Mel was excited as we pulled away from the dock because she would only have to dock one more time for a while. Mel cleaned below and Eric cleaned up top while we motored the last few miles. The weather was turning and quite dreary, which we found quite appropriate on our return to Seattle after such a great trip. The sky became black and we could not see the Seattle skyline even though we were only 10 miles away. It began to rain heavily, which helped Eric wash the soap off the deck! We were hailed and welcomed home by the gas dock attendant who knew of our grand journey. We looked like drowned rats as we made it to our slip and tied up. We had not even turned the engine off before our friends and last <![if !vml]>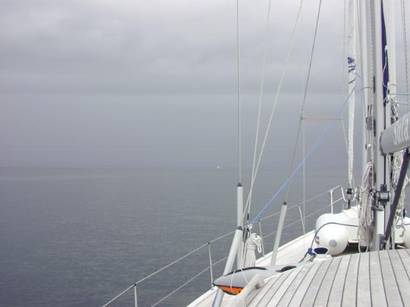 <![endif]>guests Brian and Kim made it to the boat to welcome us home (and deliver our car)! What a feeling to be home after such a long trip. What would it be like to be gone for years? We finished securing the boat then had some champagne to toast our return. Eric' Mom and Dad arrived around 7pm as planned with Willard and Sunny Bristol and Nancy Gallop, Eric's Aunt's and Uncle. We were glad we could return a little early so we could visit with them before they leave in two days to take a cruise up to Alaska. They will visit many areas where we had been and we were excited for the journey they were about to make. It will be only take a week but they have a bigger engine that we do! Kim and Brian had to leave but the rest of us went and had another fabulous dinner at Palisades Restaurant at the marina. Eric and Mel are looking forward to eating less and exercising more! We returned to the boat after dinner for our last nights sleep on board before returning to our land home! The kids are excited to see their friends but Kelsey is sad she does not get to sleep on the boat for a while after this.
Wednesday, August 30 Home, Sammamish WA (26 miles) We packed up just what we needed for a few days and headed home. It was very strange to be on the road again. The kids talked about all their favorite things they did and what they were going to tell everyone! It was very fun listening to them recount the last 10 weeks. They are very excited to see their friends and family, as are we. When we arrived home the kids quickly ran inside to see their toys, Meepers our cat and their rooms, which they were not sure if they remembered. Parker and Abby Golz (RJ and Kelsey's friends) brought over a welcome home sign and played a bit. Although it is sad that our summer adventure has come to an end, it is great to be home! And Mel is glad she does not have to put the anchor down for a while.
Thanks to all of you for coming along on our trip with us! We appreciate all of your support. Your comments and well wishes were great to receive. We would like to make a special thank you to the crew we had as guests throughout the trip. It was a wonderful change of pace to have guests and even better to share this incredible adventure. We appreciated your positive and willing attitude as well as the deliveries of mail and extra parts. We would like to say an extra large thank you to Brian and Kim Golik who gathered our mail in our absence and made sure each week's guests were in receipt of anything we needed (or forgot) from home! This was a wonderful experience for us and we were glad we could share a lot of it with you. If you have any questions or would like to know specifics on anything please drop us a line! For example; the most frequently asked questions so far has been "so, who wrote the log?" Well, it was a joint effort. Mel wrote the log, Eric did some editing (sometimes more, sometimes less) gand added the pictures. It has been great to have the daily record of what we did, however as you know this last log has been a challenge! Mel is quite glad she does not have to think about getting it out any longer! Thanks again…until next time!
One last sunset!
<![if !vml]>
<![endif]>
Alaska Trip Home Page Previous Log