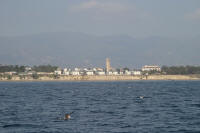 USCB, Eric's Alma mata. The larger building on the right used to be the Computer Science building where Eric had an office as a grad student.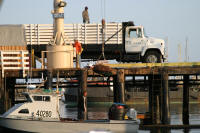 Sea Urchin dive boat unloading at the wharf in Santa Barbara Harbor.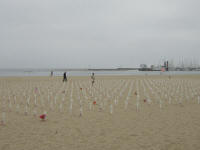 Anta-war protest against the war in Iraq on the beach near the Santa Barabara marina. Very tastfully done and very sobering.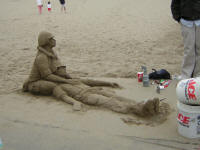 Sand sculpture of a fallen soldier at the anti-Iraq war protest near the wharf in Santa Barbara.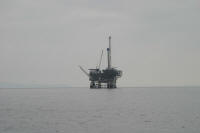 Oil rig in Santa Barbara channel crossing to Santa Cruz Island.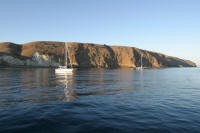 Smugler's Cove anchorage on Santa Cruz Island. One of the warmer spots in the lee of the prevailing NW winds.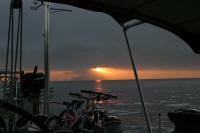 Anacapa Island at sunset as seen from Smugler's Cove anchorage on Santa Cruz Island.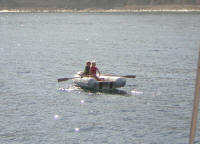 Kelsey and RJ soloing in the dingy, rowing over to S/V Trinity anchored nearby.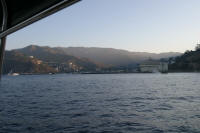 Avalon Harbor, Santa Cantalina Island.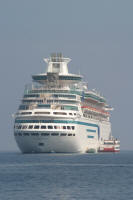 One of the many cruise ships which visit Avalon regularly. From 10am to 5pm, when the ship is in, it's a total zoo of tourists.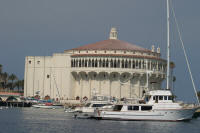 The old Avalon casino.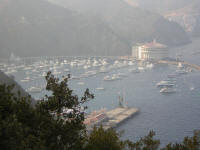 Avalon harbor as seen from the roads in the hills above. Note the mooring buoys and the density of boats. Sula is hidden by the tree branch.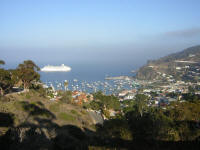 Another view of Avalon. Sula is near the middle of the photo.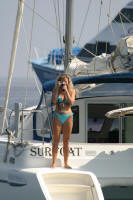 The view from our mooring bouy in Avalon Harbor.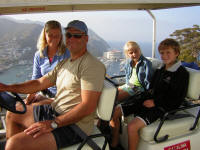 Out for a spin in a rental golf cart, the preferred mode of transportation in Avalon.