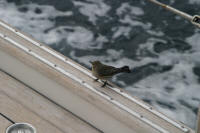 This little guy joined us 30 miles from land on the passage from Avalon to San Diego. Visability was very poor. We were the only place to land!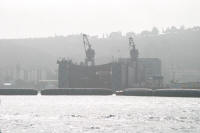 A Trident nuclear submarine in dry dock near the entrance to San Diego Harbor. Can you say "Navy Town"?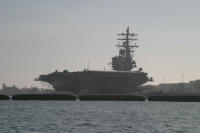 The aircraft carrier Ronald Regan, the largest and newest in the fleet - that is until the George W. Bush lauches in 2007!
Note the anti-terrorist floating barricades.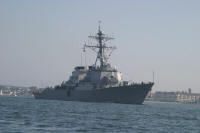 A carrier escort ship. Navy ships of all kinds travel up and down the harbor every day.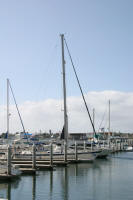 Sula stickign out of a 45 ft slip (the others were too narrow) at the Marriot Marina. ice place, nice pool and hot tub, but oh, so expensive....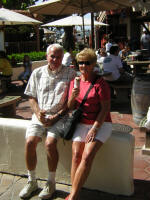 Melissa's parents, Ken and Margaret visit us in San Diego.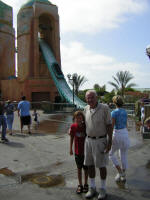 RJ's favorite ride at SeaWorld: Atlantis. Only Poppy was brave enough to go with him!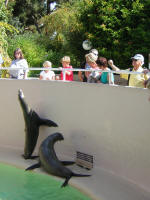 Feeding the Sea Lions at Sea World.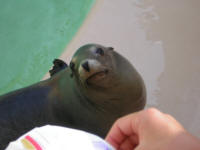 What are you looking at?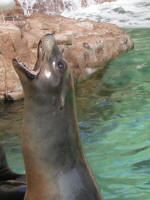 Give me that now!!!
The aircraft carrier Midway, decommisioned in 1992, now a navel muesum on the San Diego waterfront.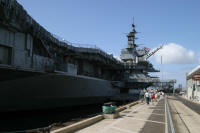 Man, this is one big boat and it's small by today's standards!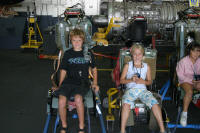 Where's the eject button?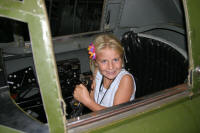 Kelsey, WW I figher Ace, in search of the Red Baron...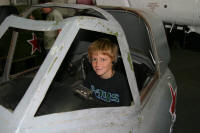 RJ, the Mig pilot.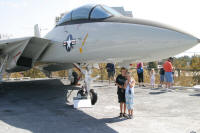 This F-14 Tomcat is longer than our boat!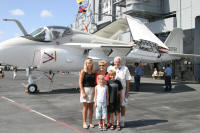 Mel and family on the Midway.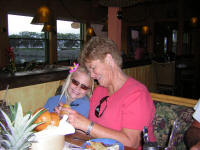 Kelsey loves her Marmit!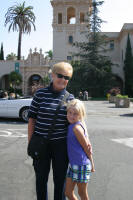 Marmit and Kelsey Margaret at Balboa Park.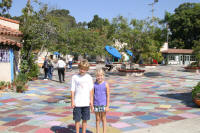 The kids at the artist studio area of Balboa Park.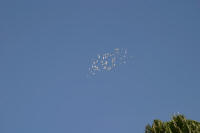 This crazy flock of birds flew aroudn in perfect, tight formation over our heads at Balboa Park for over 1/2 an hour, swooping and turning.