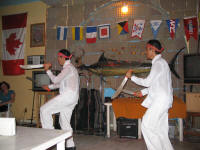 Traditional 'Machette' dance, performed by local folk dancers at Rick's Bar, Zihuatanejo.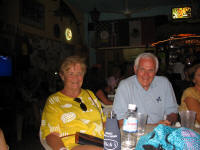 Margaret and Ken enjoying the show at Rick's.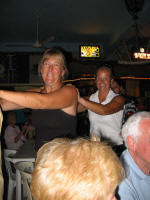 This shot gives a new meaning to the term "Mexican Train'! Line dancing at Rick's bar.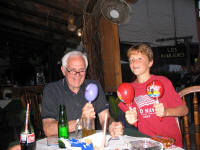 Out for dinner one night, we found a Tamale resturant with a sizable instrument supply!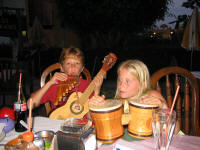 RJ and Kelsey provide the evening's musical entertainment.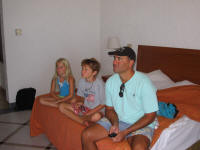 Wow! Check this out! The pictures on this box actually move! This must be that TV thing we've been missing!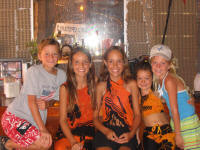 Yet another enounter with the Zuma Marimba family, playing Rick's in Zihuatanejo.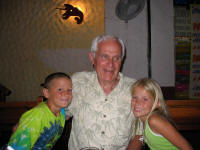 RJ and Kelsey hanging with their grandfather.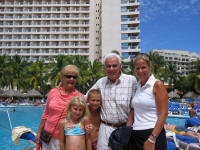 Marmit, Ken, Mel, RJ and Kelsey poolside at the Radison, Ixtapa.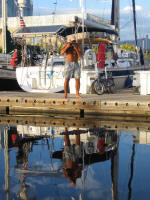 Eric taking a photo of one of the crocadiles which frequent the marina in Ixtapa.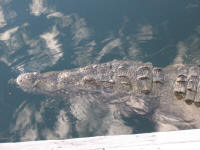 Sizable crocadile in the marina. If you look close, you can see the length of 300lb test line trailing from his mouth, which Eric later cut off.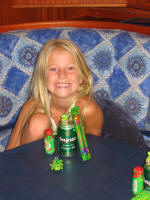 Lepracauns leave treats onboard on St. Patrick's day in Ixtapa.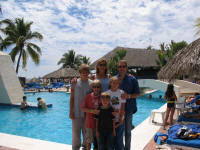 The Hendrich family comes to visit us in Ixtapa, extending our usage of the Radison pool!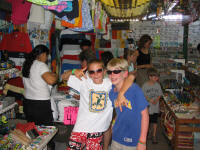 RJ and his buddy John shopping in the 'Centro' area of Zihuatanejo.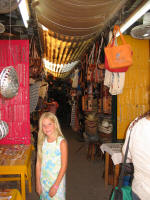 Kelsey getting in a little retail therapy.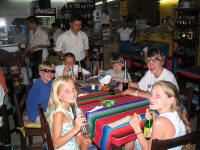 Kid's table at Tamale Annie's in Zihuatanejo.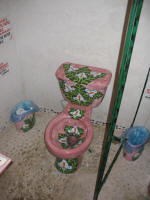 The toilets in Mexico may not have seats or lids and you can't put paper down the bowl (septic can't handle it) but they sure do look pretty!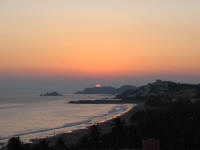 Sunset over Punta Ixtapa as seen from the Radison Hotel, Ixtapa. The marina entrance and jetty can be seen this side of the point.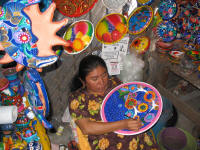 Local artisan working in the market in Zihuatanejo.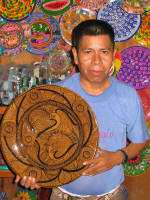 Melissa purchased this plate in Zihuatanejo. This gentlemen is the artist.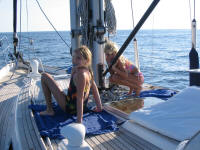 Kelsey and Lauren on a day sail to go snorkling off of Isla Grande off Punta Ixtapa.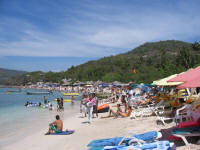 Easter week on Playa Los Gatos in Zihuatanejo. It got very crowded our last week in the Ixtapa area with Spring Breakers and Easter revelers!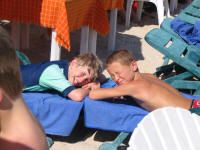 John and RJ hanging on the beach at Playa Los Gatos, Zihuatanejo.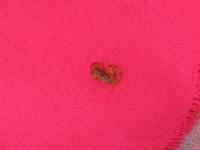 This live scorpion was on the table at Playa Los Gatos!!! Luckily, they didn't charge us extra for it!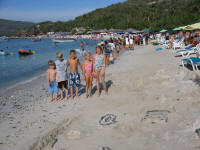 Kids, beach, water and sun. A perfect receipe for fun!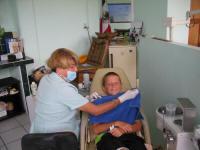 RJ at the dentist in Zihuatanejo. A complete teeth cleaning is 200 pesos, less than US$18 at current exchange rates!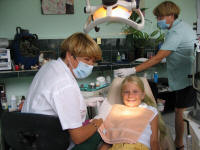 Kelsey getting her teeth cleaned in Zihuatanejo. She had two cavities, which cost 300 pesos (about US$27) to have filled.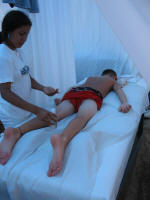 RJ getting a massage on the beach in Ixtapa. The adults seemed to like it so much (at 200 pesos per hour, who wouldn't?) he wanted to give it a try!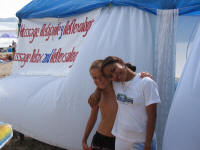 Rj the limp noodle with his personal massuese!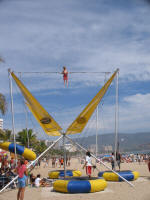 Ben bungine jumping of a sort on the beach in Ixtapa.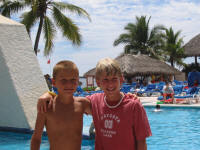 RJ and John, good buddies.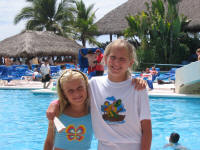 Kelsey and Lauren, friends hanging at the Radison pool.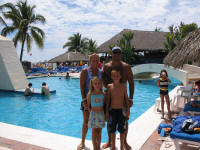 Hey, it's the Sulas!