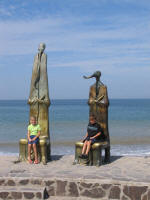 Bronze statues on the Malacon in downtown Peurto Vallarta.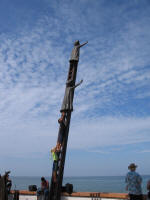 The kids imitating art.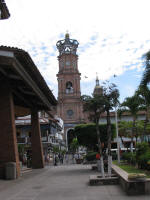 Our Lady of Guadalope cathedral in downtown Puerto Vallarta whose dome is patterned after Queen Carlotta's crown.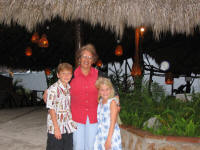 Nana comes for a visit. Outside Le Kliff resturant, south of PV. Le Kliff has the largest palapa roof in the world.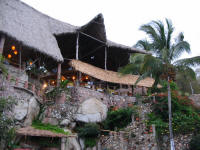 Le Kliff restruant, taken from the wedding platfrom. As you can see, the place lives up to it's name!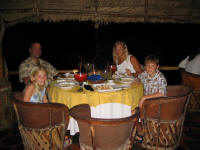 Look at the size of those drinks!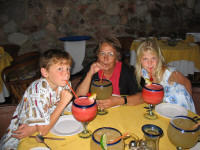 Kids challenge Nana to a drinking contest!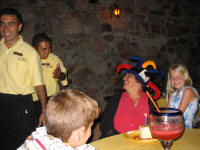 Nana gets the funny hat as we were celebrating her 70th birthday party.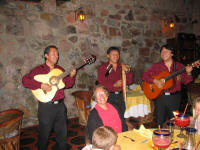 Happy Birthday to You.... cha cha cha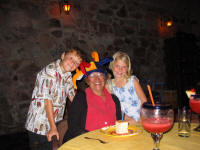 Happy Birthday Nana!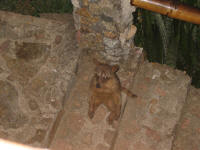 Local racoon (at least we think it was a racoon) comes to wish Nana a happy birthday at Le Kliff.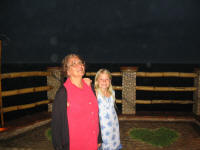 Nana and Kelsey looking up at the resturant from the wedding platform.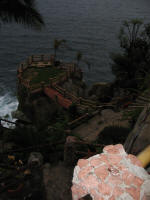 Looking down from our table at the wedding platform over the Pacific Ocean at Le Kliff.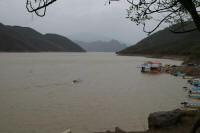 Reservoir near Aquamilpa, which we crossed by panga to visit the Huichol Indian village of San Andrej.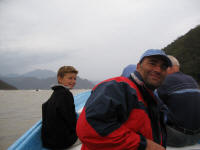 Crossing the reservoir lake by panga.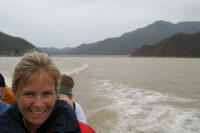 Check out the damn in the background. The largest in Western Mexico and where Peurto Vallarta and the srounding area get their power and water.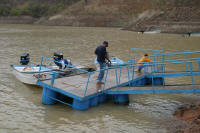 Landing dock at the Huichol Indian Village.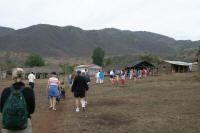 Walking into the village.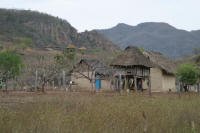 Huichol homes. There are many other villlages in the sourounding hills.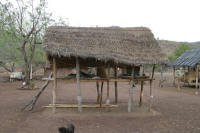 Traditional Huichol home on stilts to keep the place dry in the rainy season. Note the plastic on the stilts to keep the scorpions from climbing.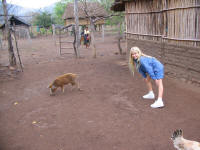 Kelsey checking out a village pig, which is a cross betwen a domesticated pig and local wild boars.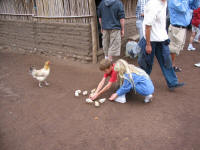 The kids playing which a brood of chicks.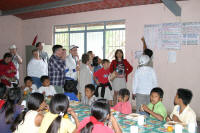 Huichol Indian school. Children from surrounding villages come here for the week to attend school in facilities provided by the Mexican Gov.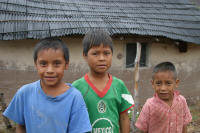 Huichol Indian kids. These folks are not poor or impoverished. We were told they have elected to live a more traditional lifestyle by choice.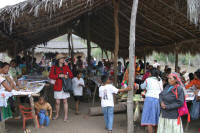 The Huichol Indian market where members from the surrounding villages come on Thursdays to sell their bead art to the tourists.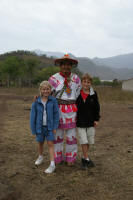 "Sancho" wearing traditional Huichol garb. He was instrumental in starting the Inidian village tours from PV 8 years ago.