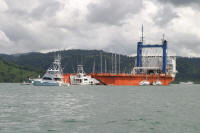 Dockwise Express 12 unloads Sportfishing boats from Flordia in Golfito.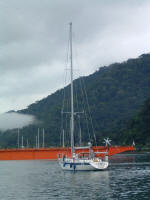 Sula waiting to load.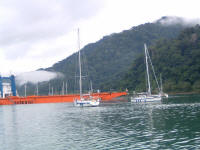 Sula and the HR43 Pearl waiting to load.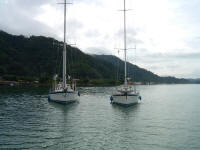 Sula and Pearl.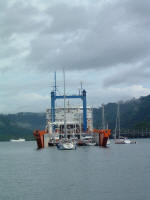 The tailgate is down, in we go!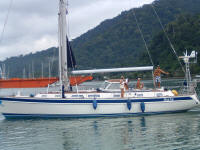 Mike and Sara from m/v Wayfinder give Eric a hand loading in Golfito.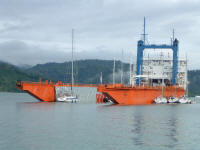 Sula loading in Golfito. Note the boats tied to the side of the ship. They we loaded in the Carrabean, bound for Ensenada, MX.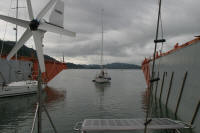 Here comes Pearl.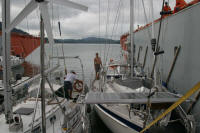 Securing the vessels in the ship.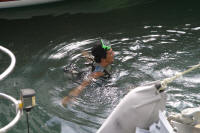 Divers beginning the work of positioning underwater supports to hold the yachts for transit.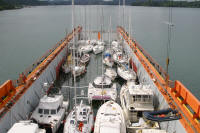 Dockwise Express 12 fully loaded with the tail gate closed.
The bridge of Dockwise Express 12, where we completed finial paperwork before departing.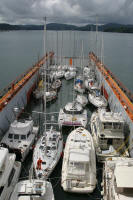 One last look before saying goodbye and heading to the states.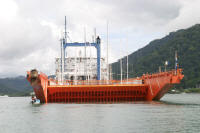 Tailgate closed.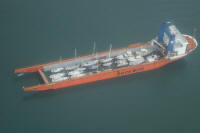 We fly over the ship on the way to San Jose to catch our flight to the states.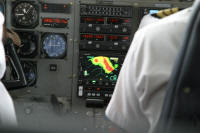 Still avoiding thunder storms, even at 10,000 feet. The radar shows some nasty stuff ahead.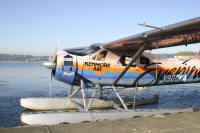 Three weeks later, Eric catches a Kenmoore Air flight up to Naniamo to pick up Sula.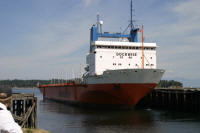 There she is, on a dock in Naniamo.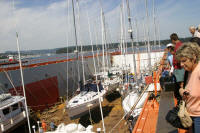 Here you can see how the yahcts travel, high and dry in their own cradles.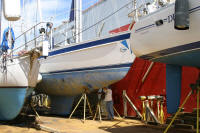 Eric inspecting Sula before they flood the cargo area. The bottom is dirty and she needs paint, but everything looks good.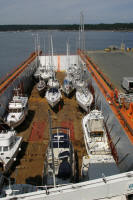 The view from the bridge deck.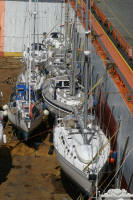 Sula against the hull.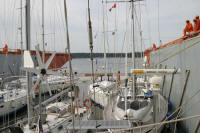 Flooding the dock.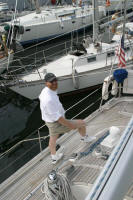 Our good friend Dave flew up with Eric to help unload and transport Sula down to Friday Harbor.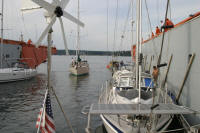 Unloading one by one.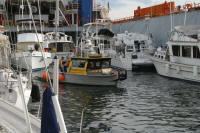 Vessle Assist vessel helping out with jump starts and tows where needed.