Greetings all! As I'm sure you know, we are on a 10 week trip aboard our sailboat, 'Sula' from Seattle to Southeast Alaska and back. You are on our mailing list because you either expressed an interest in being kept up to date with our adventures or in a few cases, we just wanted to rub it in so it we added you anyway!
We have been keeping a running, daily log of our trip to date. The contents of this message come largely from that log with additional commentary thrown in here and there. It's not supposed to be the most readable thing, but it should give you a good blow by blow summary of what we have been up to over the last few weeks. There are a few pictures attached - we'll do a better job in the next update.
Cheers,
Eric, Melissa, RJ and Kelsey
Sula Log
Friday, June 23 Elliot Bay Marina
Packing, stowing and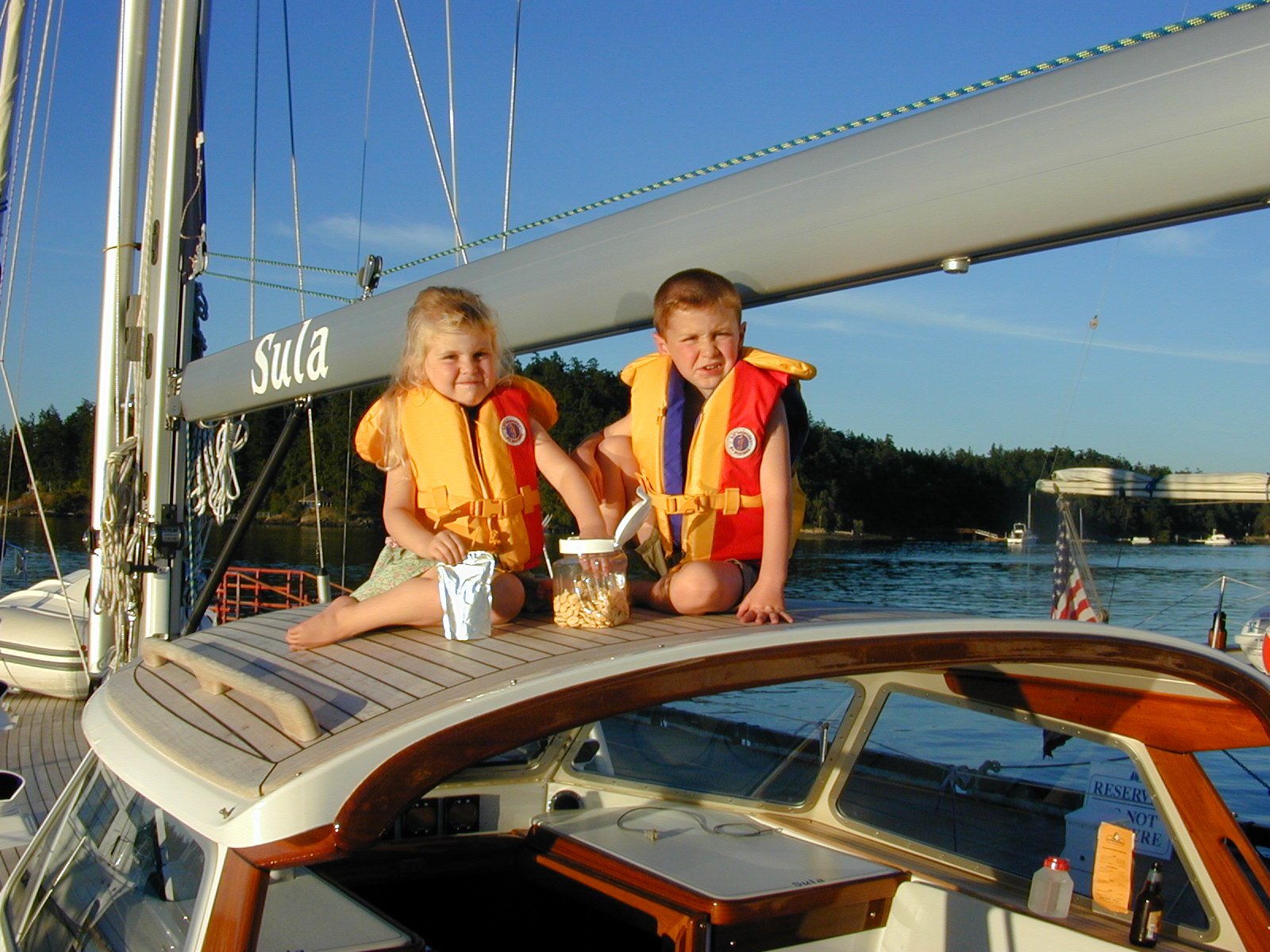 more stowing!!! Melissa has been packing and putting things away for weeks and there is still so much more to go! We are going to leave tomorrow with boxes of stuff still lying around on the cabin sole. Eric finally finished his last review at work this morning, so he is finally done with work stuff - for the Summer at least. A few friends joined us this evening for a little send-off get together. Thanks guys for the good wishes and for eating a ton of sushi with us!
Saturday, June 24 Port Ludlow, WA (19NM) The beginning of our journey, a short trip today with no wind. We celebrated Father's day at Melissa's parent's house with her parents, 'Marmit & Pops' and her family. They gave us a very nice 2-person inflatable Kayak as a bon voyage gift!- thanks guys! We have not had a chance yet to inflate it, but we are looking forward to using it in Glacier Bay! Additionally, Marmit sent 4 rolls of frozen gingerbread cookie dough, with instructions to bake them every Wed, so RJ can get his fix! Thanks for everything guys!
Sunday, June 25 Friday Harbor Marina, WA (38NM) Fresh scones and a good-bye to Mel's parents in the morning and we are off to Friday Harbor. We've done this trip a few times with the kids, so this is old hat for the kids. The strait of Juan De Fuca was flat calm, which is typical for this time of year and so again we motored the whole way. We tied up in the marina next to the Odyssey. It is a 90ft Sparks and Stephan Yawl used by the Sea Scouts to train Boy Scouts. Eric took a tour, and then invited the Capitan and a few scouts over to our boat for a tour. The Odyssey is a large, beautiful boat from time gone by - it has some huge overhangs you don't really see on today's hull designs, so below deck its not really that much larger than Sula. Built in 1938, it was originally a privately owned pleasure yacht which included a heated running salt water bath tub and piano! After 2 years, the Navy took it over for submarine patrol duty off the East Coast, ripped out the piano and painted over the teak decks. When the war was over, the original owners didn't want it back in that condition, so the Navy kept it as a sail training vessel until it was donated to the scouts in the 70s. Meanwhile, the kids visited their old friend, 'Popeye' the harbor seal who hangs out at the local fish market and pigs out on the salmon scraps. The kids fished a bit and caught a few shrimp. The Weather was very warm!
Monday, June 26 Montague Harbor, Galiano Island, CAN (28NM) It feels more like this trip has started because we are further north than we have been before in this boat and now we are in Canadian waters. We cleared customs at Bedwell Harbor and had lunch. Off again around 3pm, the winds picked up for a while, but died down right when we were about to make to sail, so Mel went trolling for salmon instead! No luck there either unfortunately. Montague Harbor was a great stop for the kids to run around. RJ spent a few hours hunting for crab's. "Look Mom there's a million under this one"
Tuesday, June 27 Pirate's Cove, De Courcy Island, CAN (19NM)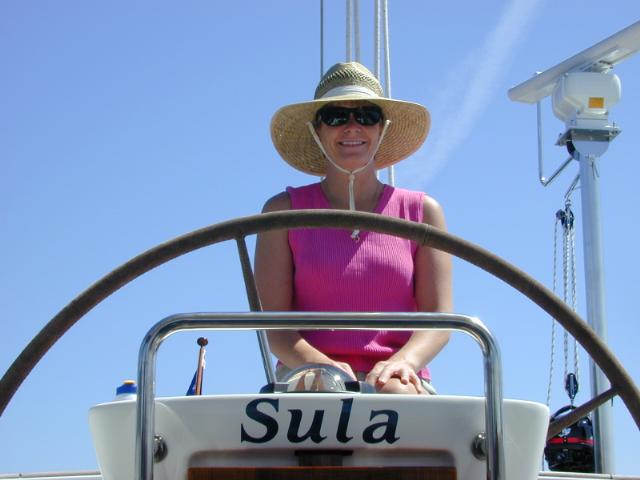 We departed Montague Harbor late due to a lazy morning and another romp and crab hunt at the beach, but that let the afternoon wind build and we sailed in 10 kt winds through Pulier Pass. The kids are doing great. They have yet to ask when are they going home, and are very interested in the type of beach or town we will visit next. We anchored with a stern line ashore in Pirate's cove, choosing a more sheltered area than the last time we were here where we had a little midnight excitement when the wind came up. There were several other boats here, but not nearly as crowded as we have seen it. We rowed ashore with the kids who played at the beach and rocks and got all wet. They seem to love the cold water! Kelsey has started a shell collection, RJ wanted to collect sticks but they are not allowed on the boat. It was an incredible red sunset!
Wednesday, June 28 Powell River, Westview Marina, CAN (50NM) We started early this morning while the kids slept. It was very quiet and peaceful. We are starting to see more eagles. We sailed for a few hours while in the Strait of Georgia. We also had great cell coverage and made a few calls. Eric actually got a call from work!? When the winds died Mel trolled some more, still no fish! We arrived in Powell river around 3:30, they had great dock assistance! We did the town, and had a pizza dinner. Eric was reliving the dinners he used to eat when he was crewing on his dad's boat as a kid. The pizza seamed bigger, but the town hasn't changed much. We had a pretty strong wind blow in the night - where was that wind when we needed it?
Thurs 29 & Fri 30 June, Prideaux Haven, Desolation Sound CAN (24NM) Mel and Eric took turns running in the morning at Powell River, did laundry, went to the bakery (so much for the run) and took the kids to the park. We topped off the fuel and water and off we went to Desolation Sound. We didn't have any wind today but the weather and scenery was incredible. We anchored in Prideaux Haven, a stop we had made in the past and will return to again, very picturesque. Our grand adventure took a quick spin shortly after we arrived. Mel was so looking forward to putting the Kayak in the water when she made the terrible mistake of picking up the slack in the anchor chain that quickly shot her hand into the roller. Needless to say, her finger was crushed. Eric lifted off the chain and with one quick look all Mel could say was "it's bad, it's bad". A fellow boater who we met in Powell River showed up just then and we sent him to the other boats, in search of a doctor. Meanwhile Eric got on the radio, and as quick as could be (20 minutes) 3 Coast Guard Personnel were on our boat. They looked and advised Mel take a fun ride on their speedy boat to Lund and then a taxi to the hospital in Powell River. RJ was jealous and thought it would be fun to go. So, Eric packed a bag and off at 42kts to Lund Melissa went. A taxi to the hospital, and 3 hours after this unfortunate incident a doctor was numbing Mel's finger (Thank God!) Five stitches, a splint (it was indeed broken) and a supply of Tylenol 3 w/codine (the pharmacy was closed for the stronger drugs) and Mel was getting back in the taxi for Lund. The water taxi was closed, about ready to check in to the new (only) 20 room hotel, that opened last week, she called the Coast Guard guys to tell them how she was and managed to bum a ride back to Prideaux Haven!. WHAT SERVICE!!! CHEERS FOR THE CANADIAN COAST GUARD!!! We gave them a package of Lemon Frosted Cookies as a thank you! (That's all they would take!) The next day, we decided to stay put so Mel could recover a bit. Eric took the kids on little adventures, Mel made it to one. Lots of rock climbing.
Saturday, July 1 Bickley Bay, East Thurlow Island CAN (37NM) We were very glad to have Eric's mom Joan join us at Refuge Cove as our first guest. With Mel playing the one-handed wonder, the timing was perfect. We picked up a few fresh veg's and off we went. We proceeded up Calm Channel, dodging lots of logs in the water. When we passed through Dent rapids we were joined by 10-15 Bald and Golden Eagles fishing off the bow. It was another quiet evening. We were anchored by ourselves but woke to another sailboat and a very large barge and tugboat who had joined us during the early morning, waiting for slack water.
Sunday, July 2 Port Harvey between E & W Cracroft Islands CAN (40NM) We made a stop in Blind Channel enroot today. It is a well run resort (it should be noted that the term 'resort' is applied rather generously in these waters). We topped off the fuel tanks and picked up some fresh baked bread! They had a great hike that led us to a 800+ year old snag that was hollow at the base. The kids thought it was great to be inside a tree. Then a bit further was an 800+ year old living tree. Joan played tag with the kids, wore them (and her) out a little. When we entered Johnstone Straight the winds picked up and hit 19 knots, but it was from the SW on the nose and we were late, so we didn't sail. The seas were 1-3 ft, and Mel did a bow watch because of the number of logs in the water. The anchorage was very calm but not as pretty due to clear cutting operations.
Monday, July 3 Echo Bay, Windsong Marina, Gilford Island CAN (32NM) This is another "resort". We tied up to the dock of the floating 'Windsong Sea Village' (think of a kinder, gentler Waterworld without the jet skis and Kevin Costner). There were several floating homes, a bakery, and a gallery featuring the talents of local artisans. We took the kids to the local school (a double wide trailer) that schools 5 kids. They played at the play ground and we all played tag. Eric did Kelsey's hair into a "Princess, Barbie, Ballerina Braid" (Mel won't be braiding for a while) and RJ made friends with Stephan (the bakery owners son). They played legos on the dock for a couple of hours before we departed. Joan picked up more fresh baked bread and some pastries - what a treat. And even though it wasn't Wednesday, Mel made RJ gingerbread cookies.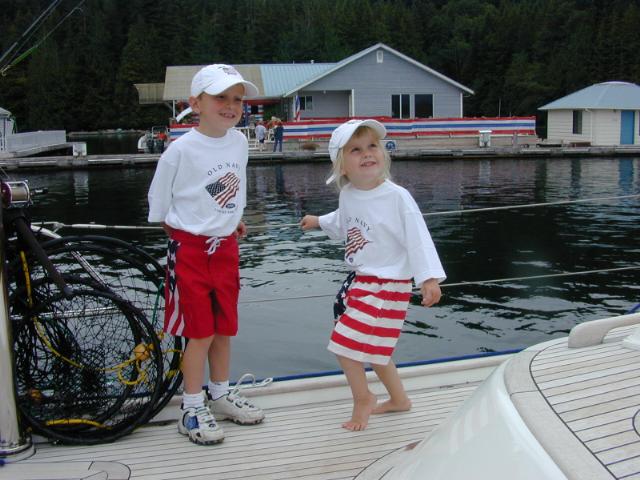 Tuesday, July 4 Sullivan Bay, N. Broughton Is. CAN (12NM) It was a quick day today, just 12 miles. We heard that everyone was going to Sullivan Bay for the 4th of July party. It is pretty much the Windsong Sea Village's big brother - a much larger community of floating homes with almost a mile of floating walkways and docks. Some homes were quite elegant while others needed some repair. The docks were nearly full. As it turns out there was a perfect spot open on the dock that paralleled the homes and was right across from the exact home where the 4th of July party was to be held. Shortly after we arrived a live band started to play. They were quite good. Kelsey and RJ began to dance on the deck and distracted all the people listening to the band. The band members commented "so you have all heard of Hula dancers, now we have the SULA dancers!" It was very funny! The kids put on their 4 of July flag shorts, shirts and hats and off we went to the party. It was a BBQ and dinner dance. Kelsey danced up a storm. One man asked her for her autograph and she promptly wrote her name on the paper tablecloth. It was a very fun night. We also met the part owners of Elliott Bay Marina (our landlords). Joan watched the kids so we could stay and dance for a while. Then when it finally got dark at 11pm they did a very impressive fireworks show! We did not expect such a celebration in Canada and had a great time. The following morning as we were passing all the guests they all commented about our little dancer girl.
Wednesday, July 5 Blunden Harbor, Mainland, CAN (34NM) It was a bit foggy this morning as we made our way to drop off Joan in Greenway Sound. Joan was a huge help w/cooking, the kids and dishes. As well she was great moral support during bandage changing. We hope for more sailing on her second leg with us at the end of July. At Greenway SOund, we bid Joan goodbye and picked up Deanna, Mel's friend from college! After some laundry (at $7.00 a load!), the kids grabbed some ice cream and off we went! Deana took three rolls of film during the first few hours and is in tough competition w/Joan for most pictures taken. Once anchored Eric took the kids ashore to some Indian village remains, Deana & Mel made dinner and did the crab dance! Which means we caught a legal crab!
Thursday, July 6 Fury Cove, Penrose Is. CAN (40NM) Departed early in some fog. The sun was trying to burn through & the rollers began once we got out into Queen Charlotte Strait. RJ was our first sea sickness victim. He fell asleep after awhile and Kelsey did too - out of sympathy we think. They needed a nap! When they awoke RJ was feeling much better. We were able to sail again for awhile. It's nice to have the engine off for a bit. Fury cove is beautiful! All we need are a few palm trees and it could be the tropics. There is a great crushed shell beach and lots of rocks for the kids to climb on. Two girls who are far from being fisherwoman managed to clean the crab and we had steak and crab for dinner! It was awesome! Another calm night! This was the most crowded anchorage yet but we will be back!
Friday, July 7 Lagoon Cove, Cunningham Is. CAN (51NM) Another warm day! The waters were much smoother today- We went through Fisher Channel and the kids played on deck with Deana. We are by ourselves here n Lagoon Cove. Eric took the kids on an adventure. They saw some rapids but could not go over in the dingy. We caught a bunch of crab but none were legal. Mel and Deana took the kids back to the rapids and were able to cross as it was slack tide. The lagoon was quite large and on our return to the boat we saw a bear!! We were glad we were on the Boat.
Saturday, July 8 Oliver Bay, Don Peninsula, CAN (25NM) Departed Lagoon Cove for Shearwater for fuel and provisions before moving on. Shearwater has great facilities but the flies were huge and obnoxious! We got what we needed then Mel and Deana took the kids for a walk to the local school playground so Eric could work on the watermaker. They were exhausted after about 15 minutes and we radioed that they had to get back to the boat before they were eaten alive (by flies)! We took a spin by Bella Bella another marina facility close by to see what it offered but didn't stop. We had an outdoor BBQ tonight! The weather has still been great. Mel took out 4 of 5 stitches! Finger is on the mend.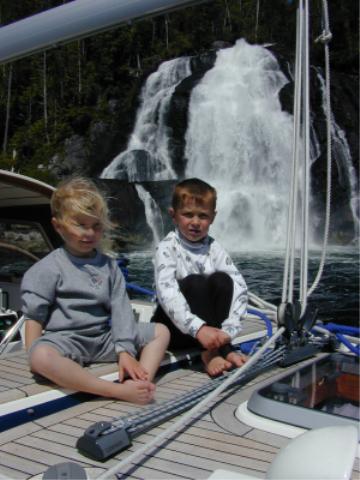 Sunday, July 9 Windy Bay, Pooley Island, CAN (45NM)
- A day that turned out Beautiful! We were expecting the weather to change and woke to thick clouds that burned off around 1pm! We had enough wind to sail for a couple of hours even with our waterfall detours! Deana took 36 pictures of the Fjordland Waterfall to include pictures of Melissa and RJ getting misted just 20 feet from the fall in 150 feet of water!! In all Deana took 3 rolls of film today! We saw several waterfalls, Eagles and a point with at least 15 seals on it and one fuzzy baby that we saw plop into the water as we sailed by! We anchored in Windy Bay by ourselves at first with a joiner late that turned out to be the parents of a girl Mel went to high school with. Eric took the kids to explore while Mel and Deana made dinner and caught a huge crab! They did the Crab dance again! So Crab for dinner, with shrimp, rice and salad! Eric and RJ caught a few dog fish! We will catch a salmon yet!
Monday, July 10 Bishop Bay Hot Springs Mainland CAN (56NM) Departed Windy Bay early so we could take advantage of the hot springs. It was very calm. We are seeing more and more clear cutting near the water. It wouldn't be so bad if it wasn't so ugly until the trees grew back in. Saw another beautiful waterfall on Princess Royal Island. We went to investigate the Butedale falls and found a dilapidated cannery that is now privately owned. Many of the buildings have been destroyed due to lack of care and the weather. One building on the pier was cracked in half and looked as though it could topple into the water at any time. There was a dive boat exploring a wreck just off shore (burr!) We arrived in Bishop Bay around 1:30. As we were stern tying a group of river otters were spotted fishing. We packed our towels and soap and off to the springs. The water was very comfortable 102 degrees. We had a very relaxing soak. After dinner Deana offered to watch the kids so we could have a date and back to the springs for Mel and Eric. We placed our boat logo on the wall with names and date -we will see if anyone recognizes us!
Tuesday, July 11 Lowe Inlet, Nettle Basin, Verney Falls, Mainland CAN (43NM) Our departure from Bishop Bay was spectacular with a school of Dahl's Porpoises playing. They were right at the boat for a short time. The kids thought it was "so cool" . It was a longer day than we were planning with a trip north around Gribbell Island. We then proceeded NW through Grenville Channel. We slowed down for Eric to troll while Mel and Deana planned our navigation through Venn Passage. Eric caught a salmon aprox 10 lbs but the tackle broke just before we could net him. So it was smoked chicken enchiladas for dinner. Mel made Eric's extra hot so he wouldn't let the fish get away next time! After fishing the wind picked up enough to sail for about 1 1/2 hours. We arrived and anchored just off of Verne Falls about 6 PM. The salmon were jumping and the Eagles flying high! We ate and then went for a short hike to the falls, through a rain forest. We were ringing the bear bells all the way! The falls were beautiful but the knats were annoying so we headed back to the boat and off to bed! Just prior to turning in for the night we were joined by the first Hallberg-Rassy on this trip the Elan - an HR39 skippered by Mike Banias. He was heading from Juneau to Seattle.
Wednesday, July 12 Prince Rupert Yacht Club, Prince Rupert CAN (47NM)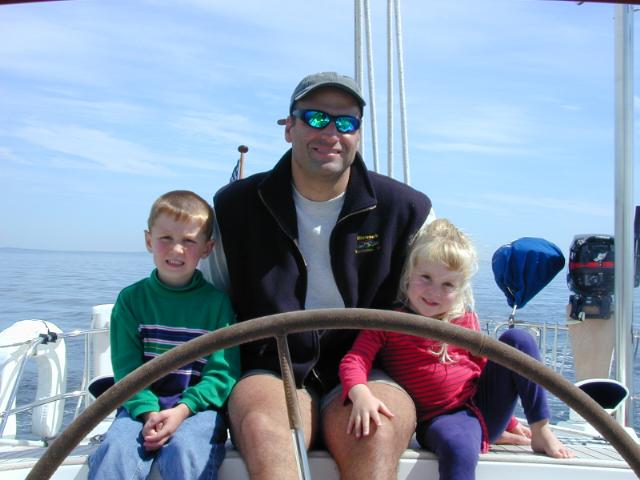 We departed early this morning in light rain and fog. It was a beautiful morning despite the weather. The water turned green shortly after Arthur Passage. Eric is using the hand held auto pilot due to weather. Cell phones have been inadequate coverage for over a week solid. Mel is having phone anxiety. We were never able to get coverage in this area in Canada . We arrived in Prince Rupert about 1:30, it was raining. Mel and Deana took the kids for a walk while Eric unhooked the motor for the watermaker and taxied it to a repair shop. Eric joined us for awhile and then Mel and Deana did the provisioning while Eric walked to the boat with the kids. Mel and Deana did a lot of damage and still arrived at the boat at the same time. Needless to say Eric was tired when he arrived at the boat. We went to dinner and then Mel and Deana went to do Laundry while Eric put the kids to bed. We didn't get to see much of Prince Rupert today but maybe in the morning!
Thursday, July 13 Tongass Is. Cove, Alaska (39NM) Left Prince shortly after noon at high tide for our navigation through Venn Passage. It is extremely shallow in points so high tide helps. The shop was able to fix the high pressure motor for the watermaker which makes Eric very happy! We saw a large number of fishing boats heading out. The kids played a lot of computer games today- RJ is getting good at simple addition. Tongass Is.cove did not have great protection from NW winds but that did not turn out to be a problem. We checked out the beach which was a geologic marvel. Kelsey found a very large clam shell that had to come back to the boat with us. Deana caught two very large starfish in the crab pot. Not only that, but she caught them twice!
Friday, July 14 Ketchikan Alaska (50NM) Left Tongass Island before 9am. Shortly after entering Revillagigedo Channel the winds picked up and we sailed for quite a while. Then the winds died and the rollers began. They were about 4ft and hitting us on the beam so we were rocking. RJ began to feel ill again but we kept him up top and it passed after an hour or so. We arrived in Ketchikan at 3:15. We promptly walked to town where 2 very large cruise ships were tied up, so you can imagine the types of stores. We met up with friends Bo and Cindy who are joining us for the leg to Sitka and went and had a great dinner out (maybe the last for a week!)
Saturday July 15, We slept in a bit and are finishing up this email, paying bills (thanks to Bo and Cindy's mail service), cleaning and changing oil before we head out. The next email update will not be so long as we hope to send next week in Sitka.